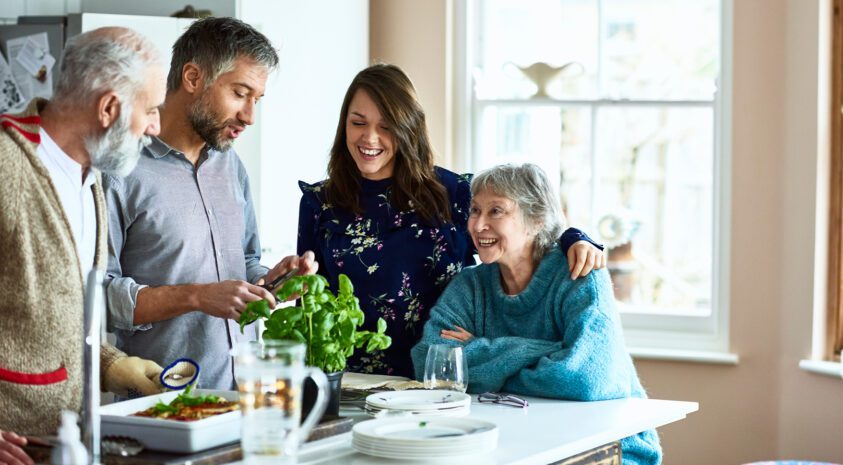 Aging in Place: Living Comfortably at Home
As you plan for your retirement, you should consider where you want to live and how much support you may need to be as independent as possible as you grow older.
Most retirees agree that they want to remain active and connected to their loved ones and communities, however, figuring out how to do that can be a daunting task.
One living scenario you may not have considered is aging in place. It is gaining in popularity and may be a perfect solution for you.
What Exactly is Aging in Place?
According to the Centers for Disease Control, aging in place is, "the ability to live in one's own home and community safely, independently, and comfortably, regardless of age, income, or ability level."1
Is Aging in Place Right for Me?
It may seem that staying at home during your senior years is a simple and convenient choice. Choosing to age in place isn't cost or worry free, however, and it often requires considerable advance planning. This workbook guides you through the steps of the process and explains what you need to consider as you make decisions.
Speak with friends or others in your community who have aged in place or may be considering it themselves. They may have helpful advice that will help you to decide if aging in place is right for you.
I Want to Plan to Age in Place, Now What?
Home sweet home can be the perfect living arrangement that provides you with the freedom to live your chosen lifestyle while maintaining your independence. You deserve to live your best life and there's lots you can do to help prepare yourself for the possibility of aging in place.
Begin by  calculating the costs of the different living scenarios so that you can determine which is the best choice for you. The National Aging in Place Council has written a detailed handbook with many helpful tips and costs to consider. Keep in mind that cost should not be your only consideration, especially if you will require specialized care that could be difficult to deliver at home.
It's important to remember that you do not need to make this decision on your own. Family and friends can guide you, and there are also many experts and organizations who can help you to successfully navigate the process.
Preparing Your Home
Your home is your sanctuary, and with a few modifications it can potentially provide safe and comfortable surroundings for you to live happily during your golden years.
The National Association of Home Builders has created a checklist that helps you to evaluate how suitable your home is for aging in place, and it also provides suggested features that you may want to incorporate to make your home is as accommodating as possible.
Consider Hiring an Expert
If the home evaluation, renovation or modification process feels too overwhelming to manage on your own, you can also hire one of the thousands of Certified Aging in Place Specialists across the country to help you with the project.
Just like with any home remodel, it is important to ensure that you hire a reputable contractor who will meet contract specifications and deliver high quality results.
Some of the renovations you should consider will need to happen sooner than others. Make sure that you are proactive so that you are not caught off guard. Setting a realistic timeline and budget will allow you to complete projects over time rather than trying to accomplish the modifications all at once.
Don't Forget the Details
Be sure to also budget and plan for home repairs as well as routine maintenance and upkeep. You will need to rely on family or contract with reliable providers to do this work if you become unable to meet the physical demands.
Make Health and Wellness a Priority
In order to live comfortably throughout your retirement, you'll also need to take good care of yourself. It's important that you not only continue to maintain your physical and mental health, but you also need to make them a priority. Learn more on healthy habits in retirement here.
Your Physician is a Valuable Partner
Scheduling regular visits to your doctor is a great place to start. Be sure to consult with your physician whenever you try new fitness routines, make nutritional changes or find that you have questions or concerns about your health. Communicating with your medical providers is a perfect way to keep yourself at the top of the aging game.
Promoting Physical and Mental Health
It's no surprise that physical and mental health challenges increase as we age. Depression, cognitive impairment and loneliness are real concerns, and our bodies recover more slowly from activities as we grow older.
While you may not be able to control every aspect of your physical and mental health, you can do some simple things to promote your well-being.
Be as active as possible. If you are already on the move, keep it up! Try new activities like yoga, weightlifting, walking, or a dance class. Consider modifications if you need them. Yoga can be done in a chair; bodyweight exercise is effective and walking even short distances is a perfect way to get exercise. The bottom line is to keep moving as much and as often as you're able.
Don't ignore the benefits of mindfulness. Meditation and breathing techniques provide wonderful opportunities to check in and connect your mind and body. You may also be surprised how helpful they can be to improving your sleep.
Stay in touch with friends and family, whether in person or through remote conversations. Consider joining a book club, attending lectures or volunteering with youth.
Take up a hobby or sport. Find local clubs or organizations that will help you to learn new skills while connecting you with others who share your interests.
Solve puzzles, read books and keep up to date with current events and the news.
Focus on nutrition, hydration and the quality of your sleep. They are extremely important to long term wellness. Take a cooking class to learn new techniques or spice up your menu by exploring regional cuisines. Keep a water bottle nearby and refill it often. At the end of the day, power down from screens and unwind before you head off to bed.
Daily living and leisure
There are a variety of tasks that you do independently now, but you will eventually need help with them as you age in place:
Chores and errands
Money management and bill paying
Meal preparation and grocery shopping
Personal care
Managing healthcare and insurance
Coordinating physician visits and medications
Safety concerns
Transportation
Scheduling leisure activities and social events
Oftentimes seniors rely on loved ones to provide care and manage their finances, however, it's not realistic to expect that family, friends and neighbors will be able to provide all the care and support that you need for many years to come. At some point you will need to hire professionals to help you.
Long-term Care and Needs
There are many different options that you can explore to keep you safe and happy at home:
Care companions can keep you company, play games or watch television and assist you with minor needs that may arise.
In home caregivers can help you with daily living skills such as meal preparation, showering, toileting and grooming. Although they are not authorized to help dispense medication, they can give you reminders about when you need to take it. Most in home caregivers do not clean homes or do chores but they may do light housekeeping to keep your home tidy.
Home health care providers include nurses, speech and language or occupational services as well as physical therapy. These professionals are arranged under a doctor's order and are usually only contracted during recovery from a hospital stay or as a result of an injury or illness.
Adult day care centers are very popular and are reasonably affordable options for higher levels of daily support. Many offer a door-to-door transportation, a daily meal, activities and access to professionals who have experience with dementia. Advance planning is important when you anticipate wanting to locate a center as many may have long waiting lists.
Technology and delivery services
In the age of technology and widespread internet connectivity, some of your greatest supports may be found online or through delivery services.
Seniors can enjoy a greater level of independence without having to leave their homes or having to hire others to come to them.
Many of these options are low cost, reliable and offer an added level of safety and security:
Home monitoring and personal emergency response systems are available from a variety of companies at different price points
Low-tech, high support cellphones and tablets
Medication monitoring and dispensing systems along with medication delivery to your doorstep
Telehealth monitoring
Meal and grocery deliveries
How can I afford to age in place?
Paying for the care out-of-pocket is always an option, however, it's not the only source of financial support that's available to you. Many people rely on long term care insurance specifically designed for senior care.
The following sources of funding can also help you to pay the expenses related to aging in place:
Private health insurance
Medicare and or Medicaid
Veterans' Benefits
Reverse mortgages
You can learn more about these options here.
Aging in place isn't for everyone, but you owe it to yourself to explore the option if you feel you'd prefer to live your senior years at home.
We're here for you
Bankers Life is here for you! We understand that the decision to age in place is a complex one that requires thoughtful consideration. We can answer questions, discuss long term care insurance, review portfolios and review financial plans to help make your wishes a reality. Call us to get started (800) 621-3724.
[1] https://www.cdc.gov/healthyplaces/terminology.htm#:~:text=aging%20in%20place,%2C%20income%2C%20or%20ability%20level.