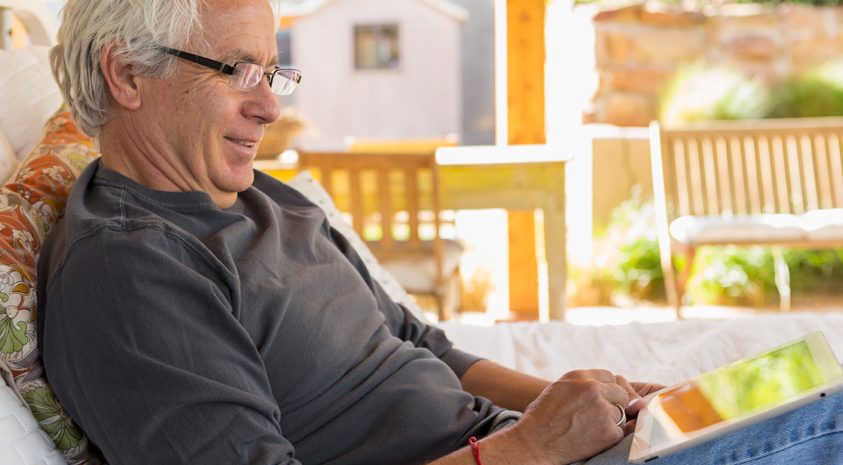 Technology has been synonymous with young people since, well… forever. From generation to generation, there has been always been innovations driven by the younger generation, while the previous generation has been slower to try those new things out.
But the Baby Boomers are defying that stereotype—remaining just as reliant on the internet and social media as anyone else. While the numbers are still outpaced by their kids and grandkids, those over 55 spent an average of 27 hours a week online.
And the tech companies are adapting to this trend. After all, Boomers spend $7B in online shopping annually.1 It's only natural that businesses would direct innovations at a large spending group like this one. It seems Boomers are actually using technology to manage their daily lives—they see themselves as more than casual tech users. They are "early adopters", actually driving a lot of the innovations we'll see in the coming years.
A Productive Workplace
Over half of workers say they plan to retire after 65 (at the earliest) or even never retire.2 And COVID-19 is affecting retirement plans, which may cause even more Boomers to decide to continue working as they get older.
Technologies are changing the way the workforce looks, and the global pandemic has accelerated the need for tech innovations. In fact, keeping people safe is the new driver for digital trainings and tools.3 Companies who recognize the value of the older worker will continue to evolve as the situation changes. It may just be that the older worker can remain working, even while downsizing or moving into a retirement community!
And there was an increase in personal trainings: virtual trainings, webinars, and free digital courses became tools that older workers used to catch up with their younger coworkers. Necessity drove a huge catch-up, that will be helpful as older workers continue working past the traditional retirement age.
Innovations in the Home
According to the Bankers Life Center for a Secure Retirement report, A Growing Urgency: Retirement Care Realities for Middle-Income Boomers, 65% of Baby Boomers would prefer to receive care in their current home.4 Aging on your terms is important. And this generation has access to technologies that make that so much easier. Not only that, but they're already using these technologies on a regular basis!
Voice assistants (like Alexa, Siri, or Google Home) are growing staples in the homes of older people. 66% of Boomers use smart speakers and assistants for creating lists, making purchases or phone calls, controlling the thermostat, and listening to news, music, and audiobooks.
This voice-control makes sense, right? After all, with small screens and flat-touch keyboards, speaking aloud makes communications easier. And all this home innovation will make it even easier for aging adults to stay in their homes longer. Medical alerts and monitoring have been commonplace for several years. But smart speakers will allow adults to adjust lighting, temperature, answer their door, and more—even if mobility becomes an issue.
Medical Innovations
From telemedicine to prescriptions, the medical industry is changing quickly to keep up with the new primary users of the healthcare system. While it used to be built for a generation who preferred to make phone calls and schedule appointments by mail, the older Baby Boomers who are starting to enter the medical system are increasingly looking for easy online portals and simple scheduling on their terms. Even the less-tech-savvy Boomers are being helped by their children and have come to expect the ease of care that technology provides.
While the healthcare system traditionally moves pretty slowly, the large purchasing power of a massive generation will accelerate innovations in the healthcare industry. Things may shift from being over-complicated and slow-moving to being quick and one-stop-shop… driven by "customers" instead of just "patients".
Consumerism in healthcare may just create a world of technology innovations that are created directly for Baby Boomers themselves!
The Caregiving Market
Care in the home often means family members are taking care of their parents. But because of the average age of childbirth increasing, many of the people caring for their aging parents also are raising children of their own. This "sandwich generation" can be strained—financially and emotionally. But technology can help reduce this strain.
Software can help with general communication struggles—planning appointments, keeping up with medicines, and even the finances of the family. The pandemic has accelerated innovations in symptom tracking technology. And all of this advancement with accelerate as this group ages.
In fact, caregiving companies that employee medical workers stand to drive a lot of new technology. And while not all of it will be directly used by Baby Boomers themselves, the advancements will directly impact the level of care they receive as they age. This spirit of innovation may just head off the crisis of care many expect to see.
Breaking The Stereotypes
From the time the Baby Boomer generation was born, they have shaped the path of innovation for businesses. And now, as this giant generation starts to enter the market for long-term care, the entire industry should shift around them. As long as people don't make the mistake of assuming technology is for the youngest generations, older Boomers will leave a huge mark in the workforce—and in healthcare.
The future is constantly shifting. Find out more about planning for what's next by contacting one of our agents, today.
Contact us here to learn more, or read more about long-term care insurance.
1https://www.nielsen.com/wp-content/uploads/sites/3/2019/04/nielsen-boomers-report-082912.pdf
2 https://www.transamericacenter.org/docs/default-source/retirement-survey-of-workers/tcrs2019_sr_19th-annual_worker_compendium.pdf
3https://www.mckinsey.com/business-functions/mckinsey-accelerate/our-insights/adapting-workplace-learning-in-the-time-of-coronavirus# (March 2020).
4Bankers Life Center for a Secure Retirement, A Growing Urgency: Retirement Care Realities for Middle-Income Boomers, 2019, p. 27.
https://www.forbes.com/sites/forbestechcouncil/2019/04/15/the-misconception-of-baby-boomers-and-the-age-of-technology/?sh=5c115e0a1b7e
This material provides general information about the described insurance product(s) for educational purposes only. This is not intended as investment advice or to recommend the insurance product(s).
The Company and its producers do not provide legal or tax advice. Each individual should seek specific advice from their own tax or legal advisors. The general and educational information presented in this material is a sales and marketing piece for insurance products offered by Bankers Life and Casualty Company.