A secure retirement plan often includes annuities, which are insurance products that offer you a way to help protect your retirement savings while providing an additional source of retirement income. Let's learn more about these financial vehicles, including what could be changing for them in 2023!
When you purchase an annuity from an insurance company, you agree to fund it, either with a lump sum of money or through regular payments. These contributions generally earn a tax-deferred rate of return as they accumulate.
You then receive income from your annuity, which may be issued monthly, quarterly, annually or in a lump-sum payment. How much you receive with each payment depends on several things, including the length of your payment period, the type of annuity selected, and whether payments are immediate or deferred. You have choices to receive payments in a lump sum, over a fixed period, or for the rest of your life. In some cases, you may be able to pick a combination of these choices. Check out this article for more information on annuity payment options.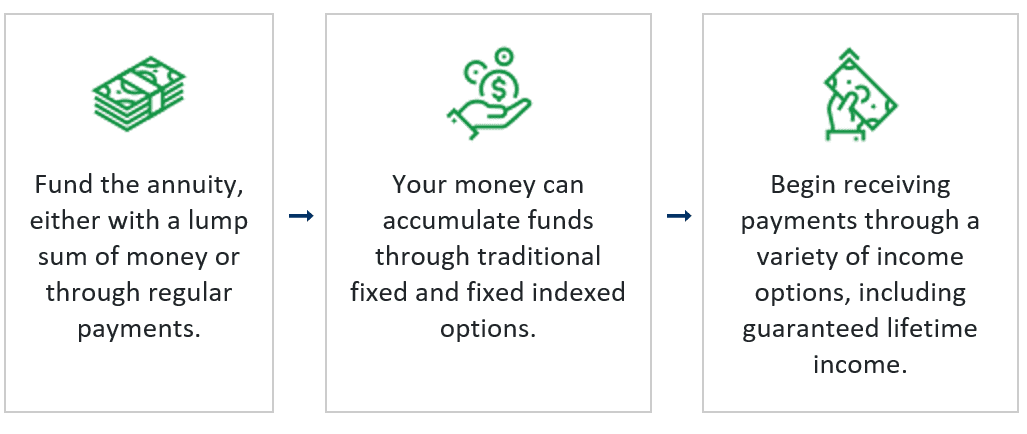 What are the different types of annuities?
Here's a brief rundown on three main types of annuities:
A fixed interest annuity earns a guaranteed fixed rate of interest.
A fixed index annuity can earn interest based on an external market index. You're not actually participating in the market, so the money in your annuity isn't at risk.
An immediate annuity is purchased with a lump-sum payment and pays an income stream that starts almost immediately.
What's changing for annuities in 2023?
One common way to fund an annuity is by rolling over retirement plan assets into an annuity. The idea is, an annuity can turn your retirement savings into an income stream. Historically, this could be facilitated by an insurance agent, but that could change sometime this year. That's because the U.S. Department of Labor is working on rules that could prevent insurance agents from recommending annuities and accepting compensation for rollovers. Instead, this would need to be facilitated by a fiduciary, 1 which is a licensed professional who manages money with an obligation to act in the best interest of their clients.
What does this possible change mean for you?
This new rule is designed to help protect you and your retirement income that you've worked so hard for. You can rest assured that when a licensed fiduciary helps you roll your retirement savings into an annuity, you're making a financial decision that's in your best interest.
Bankers Life has your annuity needs covered. Whether you're working with our insurance agents, Financial Representatives, or our Investment Advisor Representatives who provide a fiduciary standard of care, you can rest assured that our entire team has the expertise to help you build a plan that helps provide security and peace of mind.
Should you get an annuity?
If you're in or nearing retirement and you're concerned about outliving your savings, an annuity may be right for you.  Annuities provide many advantages, including:
Principal protection, even if the market fails to have positive gains.
Earnings that accumulate on a tax-deferred basis.
Many flexible payout options that can provide a steady income that you can't outlive.
An income stream that won't affect your Social Security benefits.
Let us know how we can help!
Are you interested in learning more about how an annuity can help ensure your long-term security in retirement? Schedule an appointment with our team today!
1Financial Advisor, Annuities Industry Worried About 'Worst-Case' Fiduciary Redo, Attorney Says, https://www.fa-mag.com/news/annuities-industry-worried-about–worst-case–dol-fiduciary-redo–attorney-says-71945.html, February 2023.