Bankers Life is thrilled to introduce our new Flexible Premium Bonus Indexed Annuity, offering flexibility and peace of mind in one product. If you're nearing or in retirement and seeking a solution that can protect and build your nest egg, then this product may be right for you. Keep reading to learn more!
What's an annuity?
Let's start with the basics. An annuity is an insurance product designed to accumulate tax-deferred money (during what's called the accumulation phase), with principal that isn't subject to market volatility. An annuity is one of the few savings vehicles that can guarantee payments for life (during what's called the payout phase) and is generally considered a safe option. That's because annuities offer principal protection, in addition to guaranteed interest accumulation, to help grow money for retirement.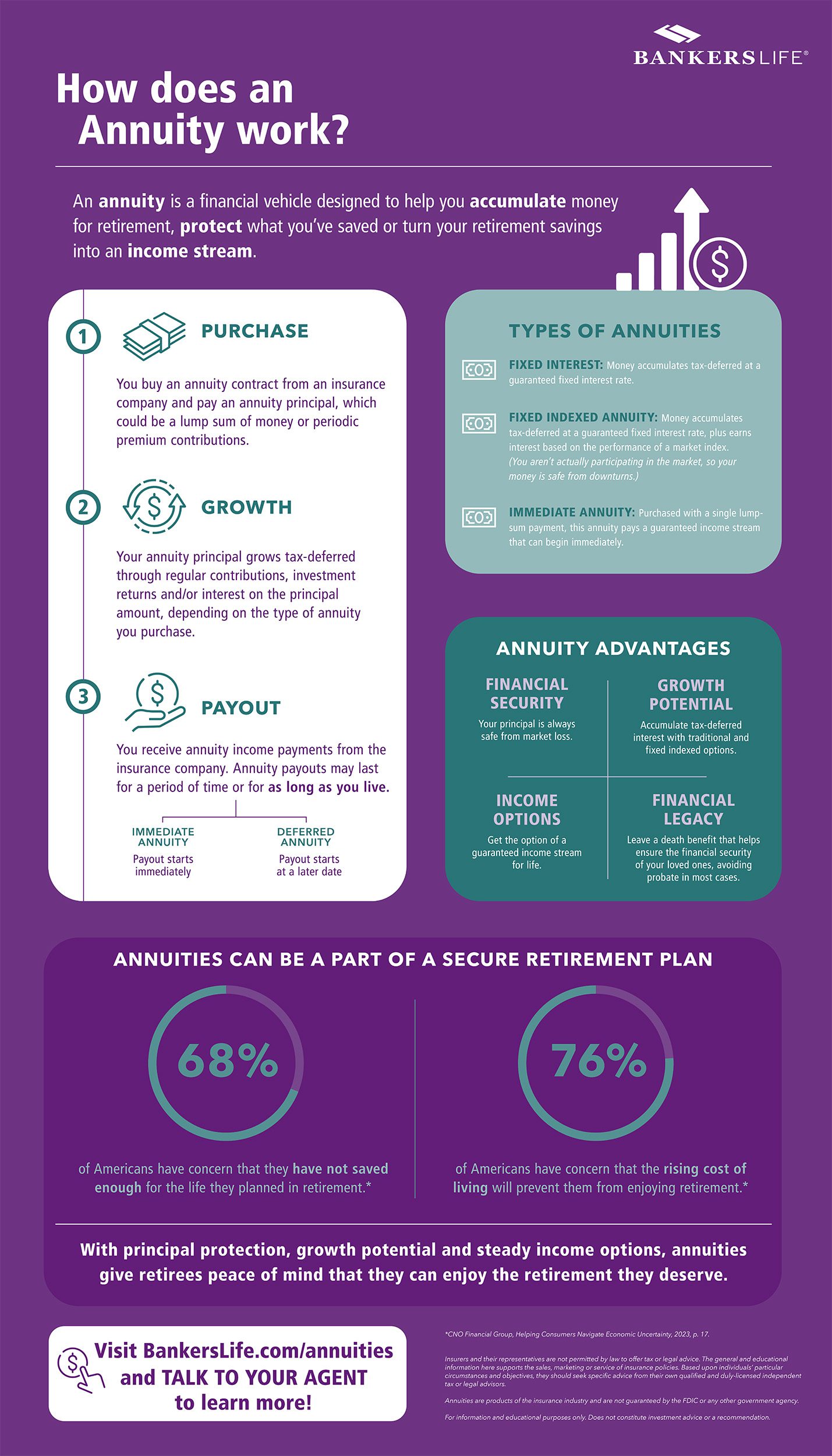 What makes Flexible Premium Bonus Indexed Annuity different?
There are many types of annuities to choose from, but Flexible Premium Bonus Indexed Annuity is unique because it accepts ongoing deposits in one contract for retirement purposes. This allows you to consolidate your money and retirement accounts in one policy rather than buying multiple policies.
Here's how Flexible Premium Bonus Indexed Annuity works:
1. PURCHASE
You buy a Flexible Premium Bonus Indexed Annuity contract with help from your Bankers Life agent. You make one initial premium payment and receive an upfront premium bonus. After your initial payment, you can then make additional premium payments at your own pace, each of which will receive an upfront bonus and its own interest rate.
2. GROWTH
The money you deposit in your Flexible Premium Bonus Indexed Annuity grows tax deferred through premium payments you make on your own schedule, premium bonuses, and interest earned. Tax deferred means while your annuity is earning interest and you're not withdrawing money, you don't pay taxes on interest.
Your annuity features fixed and index-linked credit options, which you can allocate between to grow your income:
Fixed rate credit option: guaranteed fixed interest rate of no less than 1%; grows regardless of an external market index performance
Index-linked credit options: Monthly Averaging option with a par rate; Point to Point credit option with a par rate; and Growth performance linked to an external market index
No matter how you decide to grow your investments, you can rest easy knowing that your money is safe—because all annuities offer principal protection!
In addition, in the event you need access to your annuity funds due to an unforeseen situation or emergency, you may access your funds through withdrawals, often in seven days or less, subject to charges in the annuity's early years. Furthermore, automatically included convalescent care and terminal illness riders give you options if you require nursing home care or are certified terminally ill by a doctor.
3. PAYOUT
During your annuity's payout phase, you receive annuity income payments from us. Flexible Premium Bonus Indexed Annuity has a variety of payout options available based on your income needs, including the option to receive payments for life.
Thinking toward the future: beneficiary friendly money
Do you want to leave a legacy that can help ensure the financial security of your loved ones?  Flexible Premium Bonus Indexed Annuity has you covered with beneficiary friendly money that avoids the time-consuming and expensive probate process that can reduce inheritance and delay estate distribution.
Ready to learn more?
Are you interested in learning more about how Flexible Premium Bonus Indexed Annuity can help you achieve a more secure and fulfilling retirement? Schedule an appointment with our team today!
Insurers and their representatives are not permitted by law to offer tax or legal advice. The general and educational information here supports the sales, marketing or service of insurance policies. Based upon individuals' particular circumstances and objectives, they should seek specific advice from their own qualified and duly-licensed independent tax or legal advisors.
All guarantees and benefits of the insurance policy are subject to the claims-paying ability of the issuing insurance company. They are not backed by the broker-dealer and/or insurance agency selling the policy, or any affiliates of those entities other than the issuing company affiliates, and none makes any representations or guarantees regarding the claims-paying ability of the issuer.
Annuities are products of the insurance industry and are not guaranteed by the FDIC or any other government agency.
For information and educational purposes only. Does not constitute investment advice or a recommendation.
Policy Form: ICC22B4002/B4002
Fixed Rate Crediting Rider – ICC22B7009/B7009
Index Crediting Riders – ICC22B7010/B7010, ICC22B7011/B7011, ICC22B7012/B7012 & ICC23B7017/B7017
Premium Bonus Rider – ICC22B7013/B7013
Convalescent Care Rider – ICC22B4003/B4003
Terminal Illness Rider – ICC22B4004/B4004
Underwritten by Bankers Life and Casualty Company (Chicago, IL) and in New York, Bankers Conseco Life Insurance Company (Jericho, NY).
212204