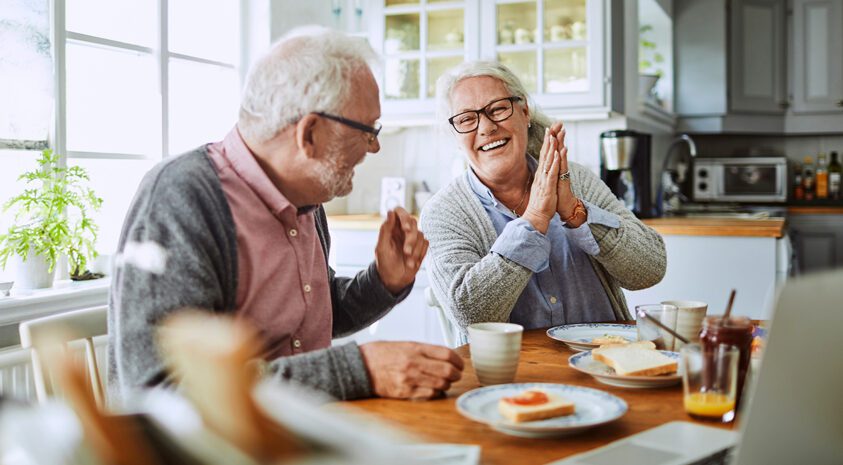 Staying In Your Home as You Age
According to the Bankers Life Center for a Secure Retirement report, A Growing Urgency: Retirement Care Realities for Middle-Income Boomers, 65% of Baby Boomers would prefer to receive care in their current home.1
This could be for a whole host of reasons: cost, comfort, or even each person's own specific options for care. And with the pandemic of COVID-19, some people now see home care as much safer than nursing homes or other long-term care facilities.
Whether you're still deciding if you want to stay in your home as you age, or you're just looking for the steps to make it easier, read on to see what kinds of considerations you may need to make.
Think About What You Want
It seems obvious to start here, but some people may make decisions without thinking through what they want their life to look like as they age. For example, do you plan to travel through retirement? Do you have children or grandchildren nearby that you want to spend more time with? Are you looking to stay put because you love your neighborhood, or would you prefer a change of scenery? Maybe downsizing is right—allowing you to stay in a home of your own, without all the unused space. And single retirees may have different considerations than those who are married.
Everyone's situation is going to be unique to them. What's really important is to think through the coming years, and what you'll want—and need—as you get older.
Plan for the Costs
With the cost of long term care facilities averaging around $4000 a month, and a private room in nursing home at an average of $8,365 each month, it's no wonder many people may think first of savings when it comes to staying in their home for as long as possible as they age.2
That said, staying in your own home will still require you to spend some money. Your home will still need to be maintained, so don't forget to factor in those costs that may come up (like a new roof), or the monthly expenses (like yard service).
Your medical expenses tend to go up as you age, too. One of the reasons for the high cost of long-term care is the health monitoring and assistance. You still may need this level of care at some point—so plan for it just in case. More on that below.
Prepare the House
When thinking about your budget, you have to plan for home expenses like a new roof or lawn care. But it may be a good idea to start making some changes now.
If your home has multiple levels, think about how that will need to change as you age. Is there a bedroom one the ground floor you could use? Maybe the laundry should be moved from the basement to the main floor while home renovations are still relatively easy to work around.
While you're looking at home renovations, remember that kitchen and bath updates can be a real help for when you get older. From slip-resistant flooring to walk-in showers that replace old bathtubs, little updates can prove so helpful in the years to come.
You may also consider whether downsizing is right for you.
Look into Home Care
There are lots of home health care services available all around the country. Some are run by local hospitals, and others are independently owned.
Most have the goal to give the same level of care that you could receive in assisted living or a nursing home, but in the comfort of your own home. Some hospitals offer home health care as a way to shorten a hospital stay and bring high-level care into your home to speed recovery.
As with any service, these have varying costs, and levels of service. Talk to friends who may use these services to get a recommendation in your area or look for well-reviewed and respected home health care businesses to make sure you're getting the best deal, and the best care.
Talk to Your Family
Talking about the future with your loved ones is going to be important step in living on your own as you age. By keeping everyone on the same page, and showing how you've planned ahead and prepared, it will be easier for them to understand your wishes. After all, it's common for those who love you to suggest a plan based on what they think is best. But only you can make that decision.
You'll want to think through your finances, your debts and assets, your plan for care, and your health before you talk to them. Talking to a financial advisor may be helpful as you build out your plan.
Find out more about how to prepare your loved ones for your care needs, here.
Consider Long-term Care Insurance
With long-term care insurance, you can make some determinations now as to the care you receive when you need it as you get older. Your premiums are determined by your length of coverage, your age, your health, and the maximum reimbursement amount. So it's a good idea to apply while you're still in good health, to qualify for coverage.
Contact us here to learn more, or read more about long-term care insurance.
1Bankers Life Center for a Secure Retirement, A Growing Urgency: Retirement Care Realities for Middle-Income Boomers, 2019, p. 27.
2Genworth, Cost of Care Survey 2018, https://www.genworth.com/aging-and-you/finances/ cost-of-care.html, 2020.
This material provides general information about the described insurance product(s) for educational purposes only. This is not intended as investment advice or to recommend the insurance product(s).
The Company and its producers do not provide legal or tax advice. Each individual should seek specific advice from their own tax or legal advisors. The general and educational information presented in this material is a sales and marketing piece for insurance products offered by Bankers Life and Casualty Company.