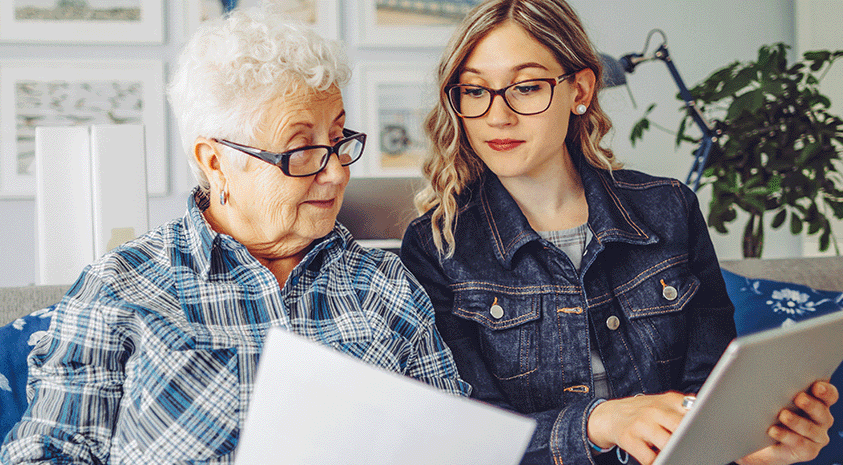 Retirement: Generation by Generation
Whether you're a millennial fresh out of college working at your first job, or a seasoned, ready to retire Gen Xer, a successful retirement depends on how prepared you are to meet the challenges. Young workers have time on their side, but the older they get it becomes even more important to have a rock-solid plan in place.
Generational attitudes toward retirement
A recent survey by the Society of Actuaries Research Institute provided valuable insight on generational attitudes toward retirement:
Millennials (mid-twenties through age 41) are somewhat confident about retirement with approximately 30% feeling they are on track and have their finances under control. Just over 20% feel that their debt is complicating their ability to save for retirement, the highest percentage of any generation surveyed for this research. Even though many millennials feel they are locked in to a secure retirement, the number of individuals expressing this optimism has decreased since 2018.
Gen-Xers' (early forties through age 56) attitudes are remarkably like millennials, despite the oldest members of this generation being only about 10 years away from retirement. Both generations are dealing with higher debt and heavier reliance on 401k investments while facing the reality that Social Security likely will not be as secure as it once was. Overall, Gen-Xers are more confident than millennials about being on track, yet they are 10-20% less confident than older generations.Many Gen-Xers reportedly feel overwhelmed and depressed about retirement, especially coming out of a global pandemic and experiencing its resulting economic impacts. In fact, almost 25% of Gen-Xers have less than $10,000 saved for retirement, which closely mirrors the savings trends of millennials. On a positive note, many Gen-Xers have used the lessons learned from the pandemic to begin to build emergency funds and they are more eager to try to pay off debt.
Approximately 60% of Gen-Xers feel concerned about a variety of retirement issues like maintaining a quality standard of living, being able to pay for housing and healthcare and whether their investments will keep pace with rising costs and inflation. They are justified in being concerned as many Gen-Xers have more student debt, less access to structured benefit plans, and they typically have not saved as much as the Boomers who will have retired just before them.
Boomers (ages 56-75) are 15-20% more likely to be receiving a pension and tend to feel more confident and in control of their retirement plans and savings than their Gen-X counterparts. Except for the Silent Generation (over 75), Boomers report the most satisfied feelings toward financial planning, most likely because they have higher rates of retirement savings and lower debt than Gen-Xers.
Not all plans are created equal
A strong majority of Boomers and Gen-X'ers plan to rely on Social Security and 401k's to fund their retirements, while others plan to tap into savings, CD's and pensions.
Younger workers do not hold as much confidence in Social Security and 401k's and feel they may not be able to fund retirement if they rely solely on those investments. As a result, they are more open to investing in crypto-currency and directly in the stock market than Boomers and Gen-X'ers might be. The jury is still out on the viability of crypto (which is considered to be a more risky investment), and there are many points to consider before jumping on the crypto-currency bandwagon.
Many employees, regardless of generation, are planning to work longer than typical retirement age mainly because they report that they will need the money. Industries have also seen an uptick in retirees applying for part time jobs during a time that unemployment rates are low. Employers are eager to hire employees with the skills needed for the vacant jobs, so it's a win-win of sorts.
It's all in how you approach it
A recent survey of financial literacy unearthed some common trends across generations. Although 57% of US adults hold investments, only about 30% feel they have advanced knowledge of investing.
Almost 60% of Millennials, Gen-Xers, and "Early" Boomers rely on the internet, specifically YouTube and TikTok, to learn about and devise their investment strategies. While it may be convenient to go online for advice, using unqualified sources has led some to feel they may have jeopardized their retirement by not saving enough or having made too many withdrawals to cover debt or expenses.
Although the internet does have valuable information that can help you plan for retirement, it's important to also rely on vetted sources that have expert investment knowledge. You can educate yourself and become more financially literate with the assistance of a trusted financial advisor.
Where should you go from here?
Regardless of the generation you are a member of, it is important to create a retirement investment plan that is sustainable and suits your needs. Consider consulting a financial advisor who can help you determine how much you  need to save and which types of investments align with your risk tolerance profile and you'll be able to realize the retirement you've dreamed of, one step at a time!
Bankers Life is here for you! We understand the stresses and strains of the retirement planning process. We can answer questions, review portfolios and help create financial plans. Call us to get started (844) 553-9083.