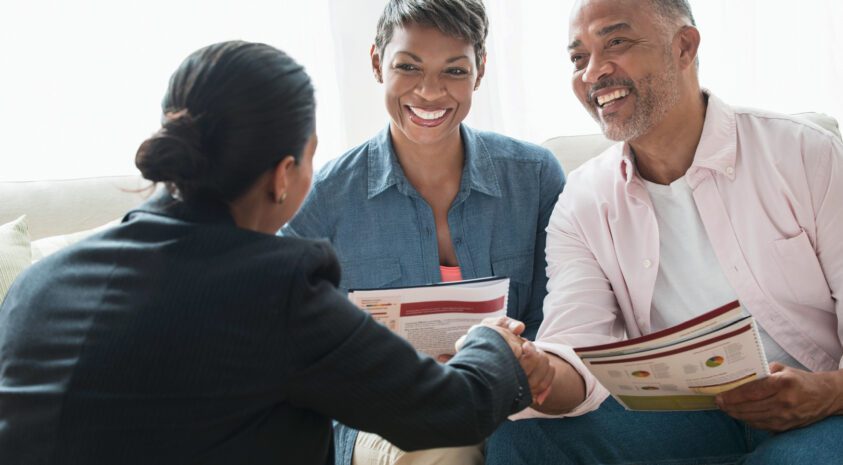 Financial Literacy: Planning for Retirement and Beyond
Are you planning for retirement, nearing retirement or living as a retiree and not feeling fully comfortable with managing your money?  Or maybe you think you're on track financially, yet you suspect you may need to tweak a few parts of your plan?
Taking charge of your finances
In a report published by the United States Federal Reserve, almost half of those surveyed did not seek financial advice because they felt they had a decent handle on their finances. Many admitted, however, that they weren't sure who to ask for help, and others felt that it would be too expensive to hire an expert to assist them. 1
In an eye-opening survey conducted by the Consumer Federation of America, almost one quarter of the respondents felt that winning the lottery was the most practical way for them to accumulate the wealth needed for retirement! While playing the lottery may be a fun pastime, it certainly isn't a reliable source of retirement income.
The results of these surveys suggest that many people need help with finances and retirement planning. Chances are that you may be one of them. Don't worry. You're not alone!
What is financial literacy?
According to the Center for Retirement Research at Boston College (CRR), "financial literacy is the ability to make informed judgments and effective decisions regarding the use and management of money and wealth."2
Financial planning basics
The Federal Financial Literacy and Education Commission (FLEC) breaks down financial planning and literacy into building blocks called "My Money Five". FLEC suggests keeping these principles in mind as you make your day-to-day decisions and when setting longer term financial goals:
EARN – Whether you are still employed and nearing retirement, or working part-time while retired, you should take time to understand your pay, benefits and tax withholding status to help maximize your income potential.
SAVE AND INVEST – The adage "pay yourself first" is excellent advice. Even small deposits into diversified savings and investment accounts can accumulate quickly, helping you to achieve your retirement goals. One of the most important parts of your financial plan is to create an emergency fund that you can tap into in the event of an unexpected job loss or home repair. Most experts agree that you should start by paying off as much debt as possible before saving for emergencies.
PROTECT – When you invest your hard-earned money, make sure that you invest with a trusted institution and financial representative.
Review your insurance policies.
Do you have the right types of insurance and coverage that will allow you to take care of yourself and your family? Did you create an emergency fund to help you with unexpected expenses?
SPEND – One of the best ways to save money is to reduce your spending. When making a purchase, shop around and compare prices and features, especially if the purchase is a large one.
BORROW – When you need to borrow money for a purchase, be sure that you borrow at the lowest available interest rates and with minimal fees. Try to keep credit card debt at a reasonable level that could be paid off if necessary.
While it may seem easy to monitor five aspects of your saving and spending, it can feel overwhelming. The good news is that you do not need to manage your finances all by yourself.
Financial representatives are valuable and trusted partners who can help you navigate your spending and saving habits by developing a portfolio of investment and insurance options that are customized to your needs while providing peace of mind.
Financial representatives can help you to:
Working with a Bankers Life financial representative can help you to choose the right savings vehicles and make smart investment and insurance decisions. A Bankers Life financial representative can be by your side every step of the way helping you be confident in your strategy. Learn more about our services here.
1Federal Reserve, Report on the economic well-being of U.S. households in 2015,https://www.federalreserve.gov/2015-report-economic-well-being-us-households-201605.pdf, accessed March 19, 2022.
2 Center for Retirement Research at Boston College, Financial literacy: what works and how it could be more effective, https://crr.bc.edu/working-papers/financial-literacy-what-works-how-could-it-be-more-effective/, February 2011.
This material provides general information about the described insurance product(s) for educational purposes only. This is not intended as investment advice or to recommend the insurance product(s). 

Bankers Life Securities, Inc., Bankers Life Advisory Services, Inc. and their representatives do not provide legal or tax advice. Each individual should seek specific advice from their own tax or legal advisors. 

Bankers Life is the marketing brand of affiliated companies of CNO Financial Group including, Bankers Life and Casualty Company, Bankers Conseco Life Insurance Company (BCLIC), Colonial Penn Life Insurance Company, Bankers Life Securities, Inc., and Bankers Life Advisory Services, Inc.  Non-affiliated insurance products are offered through Bankers Life Securities General Agency, Inc. (dba BL General Insurance Agency, Inc., AK, AL, CA, NV, PA).  BCLIC is authorized to sell insurance in New York. 

Securities and variable annuity products and services are offered by Bankers Life Securities, Inc. Member FINRA/SIPC, (dba BL Securities, Inc., AL, GA, IA, IL, MI, NV, PA).  Advisory products and services are offered by Bankers Life Advisory Services, Inc. SEC Registered Investment Adviser (dba BL Advisory Services, Inc., AL, GA, IA, MT, NV, PA).  Home Office: 111 East Wacker Drive, Suite 1800, Chicago, IL 60601 

Investments are: Not Guaranteed-Involve Risk-May Lose Value.