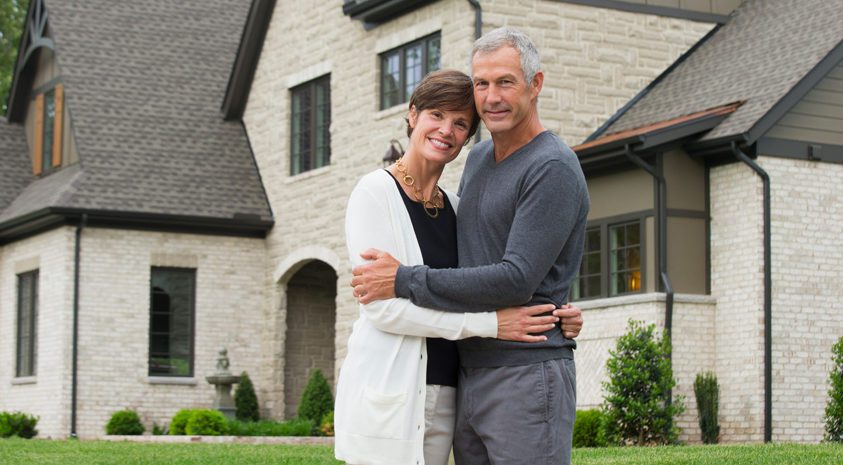 Pros and cons of downsizing your home in retirement
If you're in or nearing retirement, we're betting the thought of downsizing your home has crossed your mind at least a time or two.
Maybe you're now an empty nester and the extra bedrooms no longer make sense. Or maybe taking care of such a big property is becoming too much work and hassle. Or perhaps you're concerned about your ability to stay safe and mobile in your home as you age.
Whatever your reason for wanting to downsize your home in retirement, there is a lot to consider. Your house is one of your largest assets, after all. Before posting a for-sale sign in your yard, here are the pros and cons you need to consider.
PROS of downsizing your home in retirement
You could reduce—or even eliminate—your mortgage.
While it's widely recommended to enter retirement with no mortgage payment, the reality is that 35% of households headed by people ages 65 to 74 have a mortgage, according to the Federal Reserve's Survey of Consumer Finances. 1 And in the 75 and older age bracket, 23% still have a mortgage.1 If you still owe on your home, finding a smaller, less expensive place to live may help you lower your housing costs and add a bit of wiggle room in your monthly budget.
Your other monthly home expenses may be reduced as well.
A smaller house may not only reduce your mortgage, but may also reduce your other homeowning expenses. Utilities in a smaller house will likely cost less, as will your property taxes and homeowner's insurance. Plus, if you're open to relocation, you may be able to move somewhere that's more affordable for retirees. Be sure to check out our list of America's Best Cities for a Healthy (and More Affordable) Retirement.
You can live somewhere that makes more sense.
Like we mentioned earlier, your current house may no longer be meeting your lifestyle. Whether you need fewer bedrooms, a smaller yard, something with less maintenance or single-story living, downsizing may help you find the home where you can live safely and comfortably for the rest of your life.
CONS of downsizing your home in retirement
You may have a hard time finding a house that saves you enough money.
Earlier we mentioned that buying a smaller house could mean a smaller mortgage payment for you. Unfortunately, it oftentimes isn't that simple. With a tight housing inventory and a lot of competition for smaller homes among Baby Boomers and first-time home buyers, many retirees who are hoping to downsize are experiencing sticker shock. On average, homeowners ages 65 to 74 who downsize sell a $270,000 home and purchase one for $250,000, according to the National Association of Realtors.2 Reducing your housing costs by just $20,000 may not be worth the effort.
Selling, buying and moving are expensive.
To put it simply, selling a house, buying a house and moving are all expensive ventures. Home inspections, repairs, closing costs, agent fees, moving expenses and furnishings can add up fast—and really cut into the $20,000 the average retiree is saving by downsizing.
You may gain a few extra wrinkles and grey hairs along the way.
Besides being expensive, selling, buying and moving tend to also be stressful, personal and emotional experiences. There are negotiations, bidding wars, unreasonable sellers/buyers and snap decisions that must be made. Your home inspection may reveal defects, the lender may reject your loan or your home may receive a low appraisal. The list of things that can go wrong during a real estate transaction is long. In order to help the process go as smoothly as possible, work with a real estate agent who you're comfortable with and who you trust to protect your interests during negotiations. A good agent will give you the guidance and support you need to smoothly navigate the process.
You'll need to downsize your possessions too.
Then there's the issue of what to do with the possessions you have collected over a lifetime. It can be an emotional experience parting ways with your possessions and memories. If you need help, a local auction house or senior moving service may be able to help with everything from packing and unpacking to helping sell and give away unneeded furniture and possessions. An objective third-party business that specializes in this situation can help smooth the emotional process of object-by-object decision making and letting go.
You might end up regretting the smaller space.
While many retirees downsize their homes, there's a growing movement of retirees who do the opposite. According to realtor.com, 30% of older homeowners are opting to buy bigger homes.3 There are a few compelling reasons why. Many retirees who upsize do it because they're spending more time at home and want more space to spread out and enjoy their time. Other upsizers want more space to host guests, family—and especially grandkids! Finally, according to U.S. census data, a third of young people ages 18 to 34 live under their parents' roof.4 If it's possible your adult kids could move back home, you may be unhappy in close quarters. Upsizers who play their cards right relocate to a place with a smaller price per square foot—so they're getting a bigger house for the same amount or less.
So should you downsize your home in retirement?
Our list of cons may be longer, but that doesn't mean downsizing is necessarily a bad idea. It just means there's a lot to consider before making the move. If you have questions about the impact downsizing may have on your finances, your Bankers Life financial advisor may be able to help!
1MarketWatch, Will a mortgage be a dark cloud over your retirement?, https://www.marketwatch.com/story/will-a-mortgage-be-a-dark-cloud-over-your-retirement-2018-11-08?link=MW_story_latest_news, November 12, 2018.
2CNBC, Older Americans planning to downsize should brace for sticker shock, https://www.cnbc.com/2018/06/15/older-americans-planning-to-downsize-should-brace-for-sticker-shock.html, June 15, 2018.
3Realtor.com, Upsizer Uprising: Why Some Retiring Boomers Want Bigger Homes, https://www.realtor.com/news/trends/retiring-boomers-upsize-bigger-houses/, accessed February 2019.
4United States Census Bureau, Jobs, Marriage and Kids Come Later in Life, https://www.census.gov/library/stories/2017/08/young-adults.html, August 9, 2017.