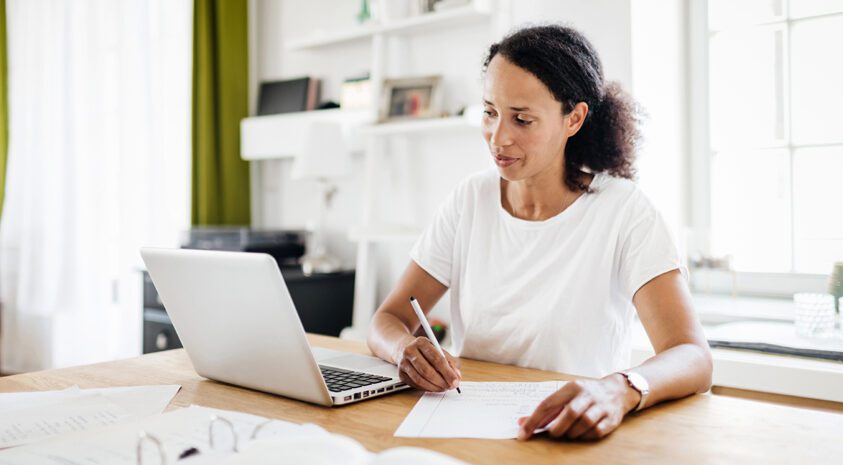 How COVID-19 Is Affecting Retirement Plans
The way Americans plan for their retirement has been shifting drastically over the last few years. Now, COVID-19 is having yet another effect on everyone's retirement plans. From causing layoffs to creating market volatility that drains retirement accounts, this coronavirus will continue to wreak havoc on retirement security. With the market down, 401k assets are lower than they've been in years. Unemployment is causing people to stop contributions to their retirement plans. Some are even utilizing the CARES Act to tap into their savings.
So, what happens when your retirement date shifts because of COVID-19 and you have to keep working? Or what about those who had a few years left before they wanted to retire, but now find themselves out of work? How is COVID-19 affecting your retirement plans? We'll take a look at both situations and explore a few ways to plan for the future when everything feels up in the air.
How to save, while working instead of retiring
In the United States, 65 has traditionally been viewed as the age for a successful retirement. It's the age most certified retirement professional use when helping young people plan their investment strategies. It's also the age when you become eligible for certain benefits like Medicare. And it used to be the age you became eligible for Social Security (that age is now 66 or 67, depending on your birth year).1
But over the last few decades of economic changes, healthcare advancements, and value shifts, the retirement age is now completely different for each person's unique situation. In fact, over half of all workers say they'll keep working past 65—with some saying they don't ever plan to retire.2
While it's becoming more common for people to choose to continue working after they've reached retirement age, the reality is there are many who continue to work because they have to—they worry they won't have enough retirement savings to get them through the rest of their life.
Obviously the younger you start saving, the more time your portfolio has to grow exponentially. Unfortunately, that isn't much help to those of us who are close to retirement age but are still pretty far off financially. The good news is, it's never too late to start planning. The earlier the better—especially the closer you are to retirement age.
Make a spending plan.
Yes, it's the very same advice young people are given when starting out. Make a budget and stick to it. When you're young, you're usually living on a fixed income, with several new responsibilities like car or home payments. As you reach retirement age, things can often feel similar. You have a fixed income and have new responsibilities, like healthcare costs. Starting here is important because it will set up how you pay off debt and invest to help yourself get closer to that retirement date.
Pay down debts.
Scott Goldberg, president of Bankers Life, said that most people "do not anticipate the amount of debt they will carry into retirement." In fact, when the great recession hit, many Baby Boomers had to face the reality that a high standard-of-living and rising real estate values had put them in a precarious position.
This wakeup call reminded people that although we impress upon our children the importance of managing debt responsibly, getting out of debt is just as important as you approach retirement.
"It is never too late to improve the outlook for your retirement financial security," Goldberg says. "Beginning to pay down debt and developing an action plan are critical first steps toward a secure retirement."
Invest smartly
While investments grow exponentially the more time they have to build up, the biggest mistake would be to fail to prepare because you worry it's too late. A survey of 1,001 middle-income Americans ages 52 to 75 found that while 91% indicated they would not say they were "very prepared" for retirement, a whopping 39% hadn't taken any steps to actively plan for it!3
There are actually investment strategies that are better suited for people closer to retirement age, like taking advantage of catch-up contributions. A financial representative is the best place to start. You can ask about specific ways to strengthen your retirement planning.
Live he
althy
So, what is this health advice doing in a financial blog? Well, first of all, healthy living can make work more enjoyable if your plan includes working past the traditional age of retirement. While it may not be feasible to relax into retirement just quite yet, maintaining an exercise regimen and eating healthy can ease the aches and pains of working into later years. Not only that, staying healthy can help reduce future health care expenses, which helps stretch your savings further. Health care one of the biggest expenses as you get older.
What to do if you have to retire early
Although many people choose to keep working because they are healthy enough and they enjoy the social aspect of a job, some continue working because they must financially. This same two-sided perspective applies to people who retire early. Some choose to retire early to spend more time with family or explore their hobbies, while some are forced to take an early retirement because of an unexpected job loss or a health issue.
If you've found yourself out of work with a few years left before you had planned to retire, you may want to get back to work— touching up your LinkedIn resume or searching for part-time work. Obviously, this is a great way to continue retirement contributions and avoid using savings too early, but it may not be realistic for some. So, what steps should you take when faced with an unexpected early retirement?
Look at your finances.
Just because you aren't working right now doesn't mean you won't be able to afford the retirement you had been planning on. If you've made contributions throughout your life, you may be able to retire a little earlier than you were planning, without issues. The only way to know is to take a full inventory of your assets and expenses. Now is definitely the time to consult your financial representative for advice.
They can also point you in the direction of smart investments for your unique situation. Remember that you can't let off the gas quite yet. Retirement planning continues—even through retirement!
Make a plan for short term and long term.
Short term planning may involve paying bills, closing out debt, or covering other expenses. Should you dip into your retirement, or do you have other savings you could use first? The exact moment you access your retirement is important—you can be penalized for withdrawing too early. COVID-19 created a hardship, and the CARES Act allows for economic hardship withdrawals with no penalties in some cases.4 But this probably shouldn't be a first course of action.
When it comes to the long term, dipping into retirement too early may stretch your savings thin as you get older. Long term care is one of the biggest expenses you'll see in retirement, with average costs up to $100,000 per year for some assisted living facilities.5 Think of the 20+ years you may spend in retirement—you won't be able to rely on Social Security alone, so it's important to continue long-term planning.
Double-check your health care coverage.
Losing a job might also mean losing your insurance coverage. You may be eligible for COBRA coverage, but that only lasts a short time after you leave your job. This may mean you need to buy a health insurance plan from a private insurer through the marketplace. Talk to a health care insurance agent for help applying for coverage. Once you reach 65, you qualify for Medicare—and can even purchase additional Medicare Supplemental insurance.
We're here for you
Whether you're feeling stressed out about the prospect of working through your golden years, or you're worrying how your plans may change with an early retirement, COVID-19 has created an anxiety-inducing situation for all those knocking on retirement's door. Learn more about how to financially recover from COVID-19  or how to maintain perspective during market downturns.
But even through all the uncertainty we feel these days, one way to regain control is to talk to a financial advisor about your plans—no matter what they are—as you approach retirement age. Contact us here to reach out to a Bankers Life investment professional to review your portfolio today.
1 Investopedia, Normal Retirement Age (NRA), https://www.investopedia.com/terms/n/normal-retirement-age-nra.asp#:~:text=In%20the%20U.S.%2C%20full%20retirement,and%2067%20years%20of%20age., Updated May 26, 2020.
2 CNBC, Why retiring at 65 could become a thing of the past, https://www.cnbc.com/2019/12/30/why-retiring-at-65-could-become-a-thing-of-the-past.html, December 30, 2019.
3 Bankers Life Center for a Secure Retirement, Paying for the New Retirement: Responsibilities and Challenges for Middle-Income Boomers, https://www.bankerslife.com/health-and-retirement-study/paying-for-the-new-retirement-responsibilities-and-challenges-for-middle-income-boomers/, July 2016.
4 ''Coronavirus Aid, Relief, and Economic Security Act, H.R. 748-2, 116th Congress, January 3, 2020
5 Forbes, You Might Be On The Hook For Your Parents' Nursing Home Costs, https://www.forbes.com/sites/jamiehopkins/2019/02/06/you-might-be-on-the-hook-for-your-parents-nursing-home-costs/#8593a9533e8c, February 6, 2019.
This material provides general information about the described insurance product(s) for educational purposes only. This is not intended as investment advice or to recommend the insurance product(s).
Bankers Life Securities, Inc., Bankers Life Advisory Services, Inc. and their representatives do not provide legal or tax advice. Each individual should seek specific advice from their own tax or legal advisors. The general and educational information presented in this material is a sales and marketing piece for Bankers Life Securities and Bankers Life Advisory Services.
Bankers Life is the marketing brand of affiliated companies of CNO Financial Group including, Bankers Life and Casualty Company, Bankers Conseco Life Insurance Company (BCLIC), Colonial Penn Life Insurance Company, Bankers Life Securities, Inc., and Bankers Life Advisory Services, Inc.  Non-affiliated insurance products are offered through Bankers Life Securities General Agency, Inc. (dba BL General Insurance Agency, Inc., AK, AL, CA, NV, PA).  BCLIC is authorized to sell insurance in New York.
Securities and variable annuity products and services are offered by Bankers Life Securities, Inc. Member FINRA/SIPC, (dba BL Securities, Inc., AL, GA, IA, IL, MI, NV, PA).  Advisory products and services are offered by Bankers Life Advisory Services, Inc. SEC Registered Investment Adviser (dba BL Advisory Services, Inc., AL, GA, IA, MT, NV, PA).  Home Office: 111 East Wacker Drive, Suite 1900, Chicago, IL 60601  Customer Service Center: (844) 553-9083.
Investments are Not Guaranteed-Involve Risk-May Lose Value.