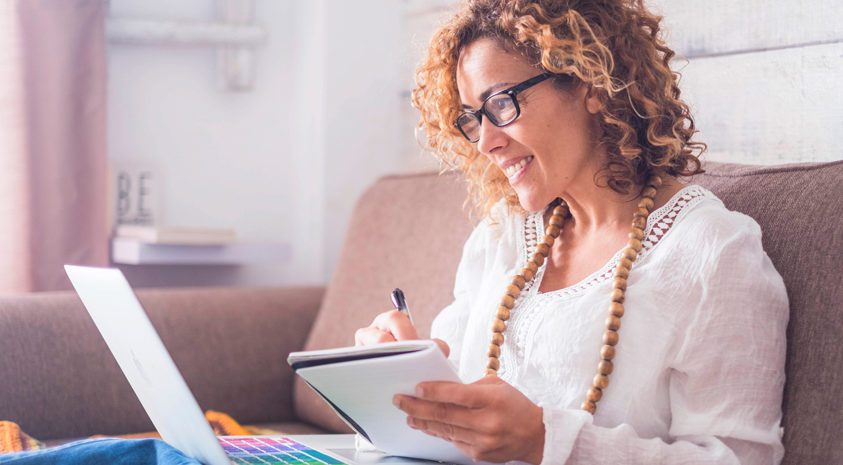 Long-term Care Terminology Glossary
With 70% of Americans over age 65 expected to use some form of long-term care services,1 chances are you'll need to research long-term care options at some point, whether it's for yourself or a loved one.
Long-term care is the assistance people need when they can no longer perform some or all basic activities of daily living. Activities of daily living can include eating, bathing, continence, dressing, toileting and transferring (moving in or out of a bed, chair or wheelchair).
Long-term care seems pretty straightforward, but once you begin researching options, you'll quickly discover that there's a lot of information to digest. In your research, you may come across terminology that's unfamiliar to you. Bankers Life is here to help with this glossary of common long-term care terminology. Reference it frequently as you research your options—so you can make confident decisions.
Long-term care terminology glossary:
Here are several terms you may encounter in your long-term care research along with their definitions:
Accelerated death benefit
A life insurance policy benefit that lets you use some of the policy's death benefit prior to death. If accelerated death benefits are paid, they may be used to help pay for long-term care.
Activities of daily living (ADLs)
ADLs may include eating, bathing, continence, dressing, toileting and transferring (moving in or out of a bed, chair or wheelchair).
Acute care
Short-term physician, nurse or skilled professional services provided at a doctor's office or hospital with the goal of recovery.
Adult day health care
These facilities provide part- or full-time service during the day for adults who need assistance or supervision. Care recipients return home in the evening. These programs provide health services, therapeutic services, social activities and meals, giving caretakers a break during the day.
Advanced directive
A legal document that specifies whether you would like to be kept on artificial life support if you become permanently unconscious or are otherwise dying and unable to speak for yourself. Also known as Health Care Directive, Advanced Health Care Directive or Living Will.
Assisted living
Assisted living communities are home-like settings that provide assistance with ADLs, basic health care, housekeeping, meals and medication management. Residents in assisted living communities maintain a high level of independence.
Benefits
Money paid by an insurance company to an insured or care provider for covered services.
Benefit triggers
Criteria used by insurance companies to determine when you are eligible to receive benefits. Long-term care insurance benefit triggers may include: needing help with ADLs or having a cognitive impairment such as Alzheimer's.
Board and care home
Also known as a group home, these private residential homes provide housing, meals, housekeeping, personal care services and support to residents with at least one caregiver present at all times. These homes must be licensed or certified and meet certain criteria.
Caregiver
Anyone who gives care to an elderly or disabled individual who lives at home.
Chronically ill
A long-lasting or recurrent illness or condition that causes you to need help with ADLs and other health services.
Community spouse
The spouse of a nursing home resident.
Compound inflation protection
Also known as a benefit increase rider, a long-term care policy with inflation protection increases your benefits each year to help protect you from inflation.
Continuing Care Retirement Community (CCRC)
This is a combination independent living, assisted living and nursing home community. It gives seniors the ability to live at the same community throughout their life, getting the level of care needed as their needs change.
Countable assets
Assets that count in determining financial eligibility for Medicaid, which may include vehicles, life insurance, bank accounts, trusts or your home.
Custodial care
This is non-medical care that helps a recipient with daily basic care, such as bathing, dressing, eating, moving around, using the bathroom, and getting in and out of bed. Also known as personal care.
Eldercare Locator
A nationwide service that connects older Americans and their caregivers with trustworthy local support services. Learn more here.
Elimination period
A specified amount of time at the beginning of a disability during which you receive covered services, but the policy does not pay benefits.
Financial eligibility
The assessment of a person's available income and assets to determine if he/she meets Medicaid eligibility requirements.
Functional eligibility
The assessment of a person's care needs to determine if he/she meets Medicaid eligibility requirements.
Hospice care
Short-term care for individuals who are terminally ill and expected to live six months or less.
In-home care
Long-term care in the home can be provided by a family member or care provider. In-home care may include housekeeping, personal care, nursing services and rehabilitation services.
Licensed homemaker services
Provide help with tasks such as cooking and running errands. Also known as personal care assistants or companions.
Look-back period
The five-year period prior to a person's application for Medicaid payment of long-term care services. Determines if any transfers of assets have taken place that would disqualify the applicant from receiving Medicaid benefits.
Long-term care insurance
Provides benefits when the insured receives long-term care. Helps the insured protect his/her savings and maintain where he/she receives care.
Medicaid
Joint federal and state public assistance program for financing health care for low-income individuals.
Medicare
Federal program that provides benefits for hospital and medical expenses for people age 65+ or people meeting disability standards. Benefits for nursing home and home health services are limited.
Memory care
Provides the vigilant care required for Alzheimer's disease and dementia.
National Association of Area Agencies on Aging
An organization that helps older adults and people with disabilities live with dignity and choices in their homes and communities for as long as possible. Learn more here.
No Wrong Door
A support network built to support individuals needing long-term care. Learn more here.
Respite care
Temporary care that provides time off for caretakers. May be provided at a nursing home, adult day service center or at home.
Self-pay
When a recipient pays for long-term care out of pocket, often requiring substantial savings.
Skilled nursing
Provides 24/7 care by licensed and trained nursing professionals to residents with high care needs and complex medical conditions.
Spend down
The requirement that a person must spend most of his/her income and assets to pay for care before qualifying for Medicare.
State Health Insurance Assistance Program
A free health benefits counseling service for Medicare beneficiaries and their families or caregivers that helps educate, advocate, counsel and empower people to make informed health care benefit decisions. Learn more here.
Supervisory care
Long-term care services for memory or orientation problems, ensuring recipients don't harm themselves or others.
Supplemental Security Income (SSI)
Social Security Administration program that provides financial assistance to needy people who are 65+ or have a disability.
We're here to help
Does researching long-term care options have you thinking about your own future and how and where you'll receive care? To read more long-term care blog posts, click here. Or contact us here to learn more.
1U.S. Department of Health and Human Services, https://longtermcare.acl.gov, February 2018.
Nothing in this post is intended to be a solicitation of insurance in any jurisdiction. Its purpose is the promotion of interest in Bankers Life and Casualty Company and insurance in general. Any inquiries regarding the possible purchase of an insurance policy will be directed to a licensed insurance agent, in which event an insurance agent may contact you.