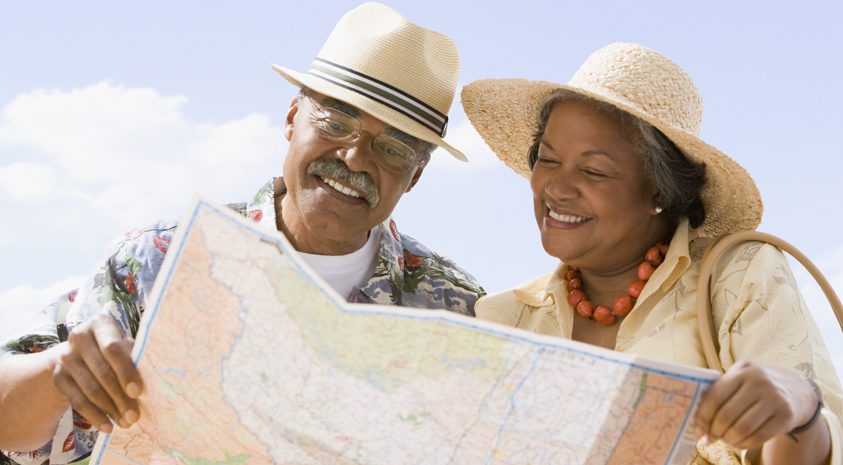 Health Care Coverage in Retirement
Spring vacation season is in full swing. Are you heading anywhere fabulous? Whether you're visiting the beach or the mountains—or anywhere in between—there are lots of things to prepare before jet-setting to your destination. Buying tickets, planning itineraries, packing bags and finding a house sitter are just a few preparations that may be on your to-do list.
Speaking of preparations, have you made preparing for your health care expenses in retirement a priority? You wouldn't go on vacation without packing a bag—so why would you enter retirement without a plan for your health care?
However, the unfortunate reality is that many people nearing or in retirement are unprepared for unexpected health care expenses.
In celebration of National Retirement Planning Week, we're going to share some important information on why it's essential to plan for your health insurance in retirement, plus some insight to help get you started.
Baby Boomers are not prepared for unexpected health care expenses
According to the new Bankers Life Center for a Secure Retirement Study, A Growing Urgency: Retirement Care Realities for Middle-Income Boomers, many middle-income Baby Boomers have limited savings to cover a financial emergency. Half (50%) of middle-income Boomers have less than $5,000 in savings set aside for a financial emergency. And one-third (30%) have less than $1,000.1
A medical emergency may quickly deplete a $1,000–$5,000 savings, which is why a growing number of pre-retirees are turning to supplemental insurance solutions.
The importance of sufficient medical insurance in retirement
When you turn 65, you'll be eligible for Medicare, which is the federal health insurance program for retirees. When you sign up, you'll automatically be enrolled in Medicare Part A, which helps cover hospital costs, as well as Medicare Part B, which helps cover certain doctors' services. You'll also have the option of enrolling in Medicare Part D, which adds prescription drug coverage. If you want Medicare Parts A, B and D, then you can choose Medicare Part C, also known as Medicare Advantage, which is a bundled plan.2
Seems simple, right? Well, there's a bit more for you to consider when it comes to health insurance in retirement.
While Medicare does cover many health care expenses in retirement, you may still be exposed to significant out-of-pocket expenses as well. Deductibles, coinsurance, co-payments and outpatient services are just a few examples.
According to Time magazine, the average American couple retiring today at age 65 will need $280,000 to cover health care and medical costs in retirement.3

Fortunately, there's a solution to help retirees handle out-of-pocket health care expenses.
What is Medicare Supplement Insurance?
Medicare Supplement insurance is a secondary insurance for Medicare that can help you pay for health care costs that Medicare doesn't cover. Here are a few of the benefits of Medicare Supplement insurance:
It helps lower your out-of-pocket costs.
It offers coverage that travels with you.*
It provides permanent coverage, even if you develop health problems.
It allows you to keep your doctor and visit any hospital, with no networks or referrals needed.**
There are many Medicare Supplement insurance plans that cover a variety of expenses. Hospice care, skilled nursing facilities, deductibles and foreign travel are a few examples.
Planning for long-term care
Another major health care-related expense in retirement that you need to prepare for is long-term care. Long-term care is the care you need if you're unable to perform activities of daily living on your own, such as eating, bathing, dressing, transferring and using the bathroom.
According to the Department of Health and Human Services, 70% of Americans over age 65 expect to use some form of long-term care services.4
There's a common misconception that Medicare pays for long-term care, but the reality is, it often doesn't. And long-term care doesn't come cheap. Here are some costs of long-term care to consider:5
Home health aide – $4,195 a month – or $50,340 a year
Adult day health care – $1,560 a month – or $18,720 a year
Assisted living facility – $4,000 a month – or $48,000 a year
Private room in a nursing home – $8,365 a month – or $100,380 a year
Ouch! These high costs are why a growing number of retirees are turning to long-term care insurance coverage to protect their nest eggs. Long-term care insurance for the elderly pays cash benefits to help protect your life's savings and help you maintain control of where you will receive care.
Supplemental life insurance for retirement planning
Another piece of the puzzle when it comes to preparing for your health care-related expenses in retirement is life insurance.
Life insurance pays a death benefit when the covered person passes away. Beneficiaries can use the money to pay funeral expenses, pay off debts, replace income, etc. If you incur significant medical expenses in retirement, life insurance can help your family cover the costs in the event you pass away.
There are several types of life insurance to choose from, but universal life insurance is a good option to consider for your retirement years. This type of life insurance provides:
Lifelong, permanent protection.
Cash value accumulation – access your policy's cash value through loans and withdraws to supplement retirement income.
Income-tax-free inheritance – help your beneficiaries avoid the delays and expenses of probate, in most cases.
Choose the right insurance plan for your retirement
There's a lot to consider when it comes to preparing for health care expenses in retirement, but you don't have to figure it out alone. Learn more about how to prepare for your retirement here.
1Bankers Life Center for a Secure Retirement, A Growing Urgency: Retirement Care Realities for Middle-Income Boomers, https://www.bankerslife.com/health-and-retirement-study/a-growing-urgency-retirement-care-realities-for-middle-income-boomers/, p. 6.
2Medicare.gov, What's Medicare?, https://www.medicare.gov/what-medicare-covers/your-medicare-coverage-choices/whats-medicare,
3Time, Here's How Much the Average Couple Will Spend on Health Care Costs in Retirement, http://time.com/money/5246882/heres-how-much-the-average-couple-will-spend-on-health-care-costs-in-retirement/, April 19, 2018.
4U.S. Department of Health and Human Services, https://longtermcare.acl.gov, February, 2018.
5Genworth, Cost of Care Survey 2018, https://www.genworth.com/aging-and-you/finances/cost-of-care.html, 2019.
*COVERAGE IS LIMITED TO THE UNITED STATES ONLY, WITH THE EXCEPTION OF MEDICALLY NECESSARY EMERGENCY CARE IN A FOREIGN COUNTRY AVAILABLE UNDER PLANS C, F, FH, G, M, AND N.
**COVERAGE IS LIMITED TO MEDICARE ELIGIBLE EXPENSES. BENEFITS PAID BY MEDICARE WILL NOT BE DUPLICATED.
Bankers Life and its licensed agents are not connected with or endorsed by the U.S. government or the federal Medicare program.