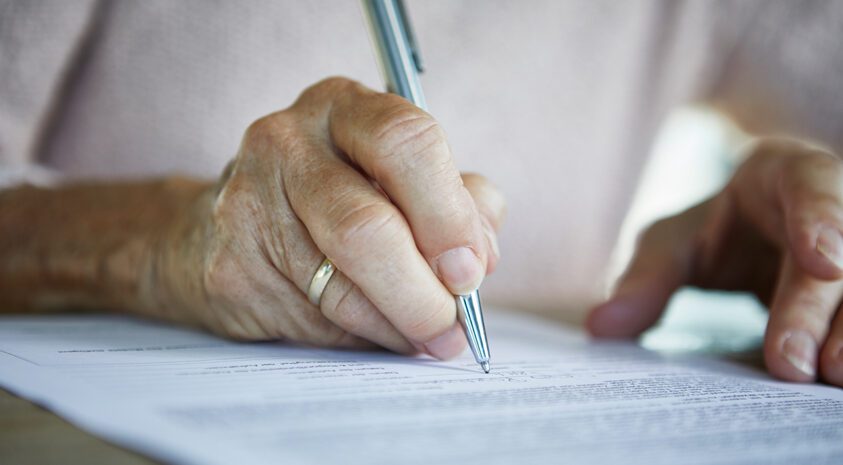 Does Pre-Paying for Your Funeral Protect Those You Love?
The cost of a funeral may be a lot higher than you're expecting. And with costs rising, you may be thinking about how your family will pay for those final expenses.
Many people plan ahead of time to pay for those expenses so their family doesn't face a huge bill from a funeral home while they're mourning. Plus, planning ahead is a great way to have some control over your own service—and to avoid leaving those behind with lots of planning to do while they are grieving.
From working with a funeral home directly to choose your accoutrements, to purchasing a life insurance policy or a death benefits rider to leave money to your family, you can actually have more control over your funeral—all while protecting your family from the expense.
Working with a funeral home
Many funeral homes will help you set up a plan for your final expenses. They call these "pre-need" plans, and they will work with you to design your own funeral just the way you want it. With these plans, you can choose from different types of services they offer and pick out a casket. Depending on the funeral home, you might pay in one lump sum, or pay in installments.
This could be a good way to make sure your family doesn't have to worry about your wishes when you aren't able to tell them. But don't forget to take everything into account when you're planning for end-of-life expenses. There are some important things to consider if you're thinking about working with a funeral home to pre-pay for your funeral.
For example, what is the money-back policy if you change your mind? What would happen if you move away? 9 out of 10 funeral homes are locally-owned, so there aren't many prepaid plans that would transfer to another location.1 Be sure to think about the funeral home's longevity, too. Don't forget that it's a business—if it went out of business or got bought out by another funeral home, what would happen to your prepaid funeral plans?
While pre-paying for your funeral with a local funeral home may be a great fit for some, it may not be for everyone. After all, if your situation changes between now and then, the prepaid plan you had counted on may not help your family pay for those expenses. But that doesn't mean you can't make other financial plans to protect your family from being burdened with a large bill when you pass.
Choosing a life insurance policy
With traditional life insurance or even final expense insurance, your beneficiary will receive a death benefit payout after filing a claim. They can then use this money to pay for those final expenses that come up. Keep in mind that this doesn't mean you can't still plan for the service you want! You can still choose your casket, or the cemetery, or the kinds of service you prefer. But instead of talking through these decisions with a funeral director, you'll need to talk through them with your family.
In a way, you're still pre-paying for your funeral—you're just setting the benefit up to go directly to your family instead of to a funeral home. This way, you can feel more confident that your money will be used exactly how they need to both honor your wishes and remain unburdened by any hidden costs that may come up.
You may also look into setting up a trust or another type of Certificate of Deposit or brokerage account that is "payable on death". Just make sure to talk to your beneficiary, and make sure they will be able to take the funds without penalties.

Making a plan is the most important part
Regardless of whether you choose to pre-pay a funeral home directly, plan for your family to use the payout from a life insurance policy, or fund your funeral with another savings or trust you've set up, the most important thing is to talk to your family and make sure they know your wishes.
A lot of people avoid conversations like these, but they are the kinds of talks that need to happen so you can still take care of those that you love when you're gone.
If you want to know more about planning for final expenses (and making sure every dollar is used how you'd want) reach out to a financial representative. Knowing you have everything in order can help you enjoy your retirement without the worry of leaving a sudden burden for your family to deal with.
1McGinley, D. (February, 2019). IBISWorld Industry Report 81221 Funeral Homes in the U.S. IBISWorld.
This material provides general information about the described insurance product(s) for educational purposes only. This is not intended as investment advice or to recommend the insurance product(s).
The Company and its agents/producers do not provide legal or tax advice. Each individual should seek specific advice from their own tax or legal advisors. The general and educational information presented in this material is a sales and marketing piece for insurance products offered by Bankers Life and Casualty Company.