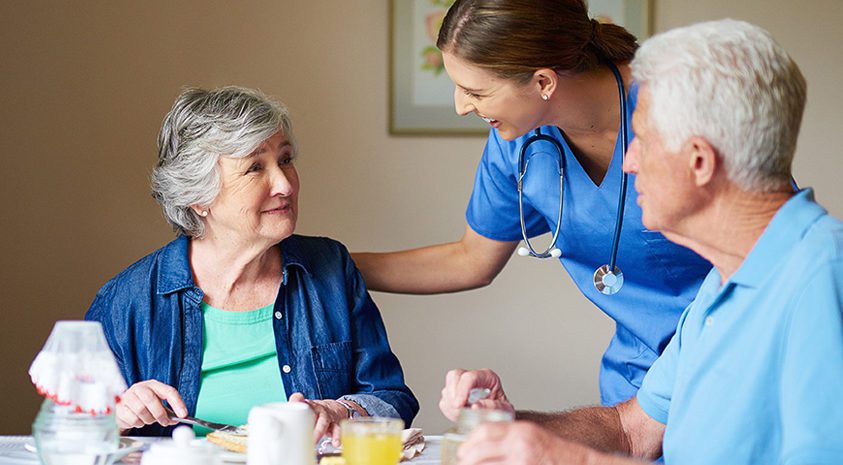 Assisted care costs: what to expect and how to prepare
As you work hard to save for retirement, one of the biggest hurdles you face is preparing for the costs of assisted care.
Assisted care is a range of services for people with functional limitations or chronic health problems. It's offered in a variety of settings, such as at home, in adult day care facilities, in assisted living facilities, and in nursing homes.
This is a long-term care insurance solicitation. An insurance agent/producer may contact you.
Will I need assisted care?
While it can be difficult to imagine yourself needing help with basic activities of daily living, needing some form of assistance is a normal part of the aging process. In fact, 70% of people will need some type of long-term care.1
How much will it cost?
Depending on the level of care you need, and where you receive it, costs vary. Here are some examples:
Home health care
Home health aide average rate = $20 per hour
8-hour shift = $160
Month = $4,800
Annual = $57,600
Assisted living facilities
One-bedroom unit average = $3,600 monthly
Annual = $43,200
Nursing homes
Private room, drugs, supplies average = $250 per day
Month = $7,604
Annual = $91,250
How will I pay for assisted care?
If the figures above startle you, you're not alone. With your home, savings/retirement and legacy on the line, there's a lot at stake. This is why many retirees are turning to long-term care insurance to protect their futures. This coverage can help you protect your life's savings while maintaining control of your care.
Ready to learn more? Request a free consultation from a Bankers Life agent today!
1Center for Medicare and Medicaid Services, Medicare and You, 2015.

Assisted care coverage refers to insurance with benefits for assisted care, such as Long Term Care insurance.

Underwritten by Bankers Life and Casualty Company, Chicago, IL.

These policies have limitations and exclusions. For costs and complete details of coverage, contact the agent/producer.

Bankers Life is the marketing brand of Bankers Life and Casualty Company, Medicare Supplement insurance policies sold by Colonial Penn Life Insurance Company and select policies sold in New York by Bankers Conseco Life Insurance Company (BCLIC). BCLIC is authorized to sell insurance in New York.