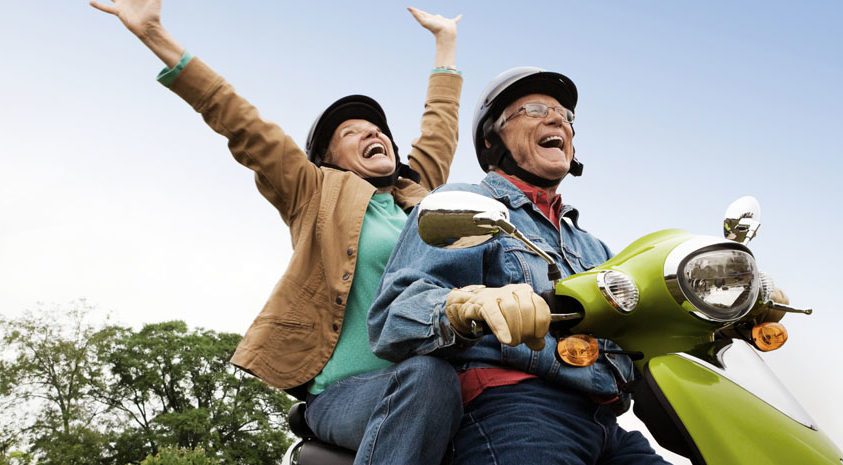 4 ways to customize your life insurance policy
We live in world of customization. Streaming services share customized recommendations based on what you've already watched and listened to. Custom cars are no longer limited to luxury brands. And when you go out to eat, build-your-own dishes are replacing set menus.
At Bankers Life, we're also in on the customization trend. When you purchase a Bankers Life life insurance policy, there are many ways to customize it to fit your unique, personal needs.
Today we're going to share four ways you may be able to customize your Bankers Life life insurance policy. But first, here's a quick reminder of why life insurance in retirement is so important.
Why life insurance during retirement?
After a lifetime of hard work, you can take pride in knowing you've been able to provide for your family and loved ones. As you look to the future, life insurance can help secure your financial peace of mind. Life insurance benefits can help provide financial security for loved ones when they need it most. It provides death benefit protection that can be used for:
Final expenses

How much does a funeral cost? A look at a typical funeral cost breakdown shows that the average funeral runs about $10,000 for a traditional service and burial. However, the price goes up when obituary notices, private transportation, flowers and other typical final expenses are included.1


Income replacement

Help ensure your life insurance beneficiary can keep up with financial obligations.

Legacy protection

Your life insurance benefits give potential to preserve your legacy and provide lasting financial protection for your loved ones.
Now that you understand why life insurance benefits are important in retirement, here are four ways you may be able to customize your Bankers Life policy.
Beneficiary customization

When choosing a life insurance beneficiary, Bankers Life provides you several options. One customization option is to elect more than one life insurance beneficiary. There are two approaches when it comes to naming multiple beneficiaries:

Per capita approach

This approach divides the benefit among all named beneficiaries. If a beneficiary is deceased a share won't be created for that person, and shares of other members will be increased accordingly.

Per stirpes approach

This approach differs if there is a deceased beneficiary. With this approach, the deceased's distribution would be divided up evenly among the deceased's descendants. This may be a good option if you have grandchildren.
Cash value benefit options

Bankers Life universal life insurance includes cash value benefits, which means your money is there when you need it. Here are three options for accessing your policy's cash value:

Policy loans

Your policy's cash surrender value can be borrowed against at any time. This means you have the peace of mind knowing cash is available in the event of an emergency.
Preferred loans

After your policy's 10th year, you will be eligible to receive a preferred loan. This loan is calculated as a percentage of your policy's cash surrender value on a zero-spread interest basis.2 This means the amount of loan interest charged (3%) is exactly equal to the guaranteed minimum interest credited to the loaned portion of the account value.3

Partial withdrawals

After the first policy year, you may take one annual, free partial withdrawal of up to 10% of the total accumulation value with no surrender charges.4 If you withdraw more than 10% of the accumulation value, the charge applies to the amount that exceeds 10%. If you make more than one partial withdrawal in a policy year, the charge applies to the amount of second and later withdrawals.

Convertible policy options

If you have a Bankers Life term life insurance policy, you may have the option to convert your policy to permanent insurance through ReliaTerm.

With the ReliaTerm conversion feature, you may be able to continue your term insurance protection. Simply choose any form of level-premium, permanent life insurance from Bankers Life, and we'll convert your policy without requiring proof of insurability. Policies are convertible to age 70 or for five years, whichever comes later.

Bankers Life offers a conversion credit (term conversion allowance) to policyholders up to age 60 and through the 61st month that the ReliaTerm policy has been in force. Conversion allowance percentages do not apply to the supplement benefits or riders.

Optional riders

Bankers Life optional riders allow you to customize your life insurance to create a policy that meets your insurance needs. Here are some examples of Bankers Life riders:5

Accelerated Death Benefit for Terminal Illness

Enables you to have access to a portion of your death benefit if you're diagnosed as terminally ill.

Accidental Death Benefit

Provides a payment in addition to your policy's face amount in the event of your accidental death.

Additional Insured Level Term

Offers term coverage on your spouse.

Children's Term Insurance

Offers term coverage on your children.

Disability Income

Provides a benefit if you become disabled.

Primary Insured Level Term

Provides an affordable way to purchase additional term coverage on yourself.

Unemployment Waiver of Cost

Waives your monthly cost of insurance deductions if you become unemployed.

Waiver of Cost

Waives the cost of insurance and cost of benefits or riders if you become disabled (certain maximums apply).

Waiver of Planned Periodic Premium

Waives the planned period premium if you become disabled (certain maximums apply).
Contact us to learn more
Bankers Life offers the life insurance customization you want and need. Get in touch with your Bankers Life agent, or contact us here to learn more!
1Parting, How Much Does the Average Funeral Cost?, https://www.parting.com/blog/how-much-does-theaverage-funeral-cost, January 23, 2018.
2Withdrawals and loans will lower a policy's account value and death benefits, may have tax implications, and may cause the policy to terminate. Surrender charges will apply to withdrawals in early years, subject to a free partial withdrawal feature. Each individual should seek specific advice from their own tax or legal advisors.
3 Indexed Universal Life Insurance (Clearvantage® IUL) has a 1% loan interest charge. TurningPoint Fixed Interest Universal Life (TurningPoint FIUL) has a 3% loan interest charge.
4This policy also has surrender charges during the first 15 policy years.
5Riders may be subject to underwriting and availability, and will increase premium payments. Talk to an agent for complete description and rules of each rider, including limitations and exclusions. Riders may vary by state.