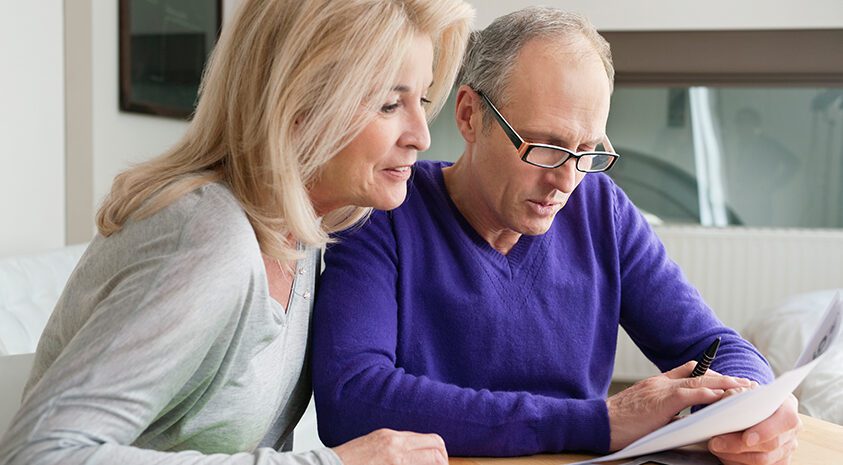 Review Your Retirement with these 6 key terms
The COVID-19 pandemic and accompanying financial crisis are leaving many Americans feeling uncertain about their future retirement.
According to the Center for a Secure Retirement, four out of five Americans are worried about their retirement. And more than half (54%) say their retirement planning has taken a hit amid the pandemic.1
Despite uncertainty and worries, there's a silver lining: 70% of Americans say the pandemic has been a financial wake-up call that has prompted them to pay more attention to their long-term money plans.2 More Americans are seeking help and revisiting their retirement saving strategies to see where they may be able to improve.
If you're looking to achieve a more secure retirement in response to COVID-19, reviewing key retirement terminology can be a great place to start. Understanding these terms will help you make decisions for your financial future and discover new ways to improve your retirement outlook. Check out these six basic retirement terms.
401(k)
A 401(k) plan is an investment account set up by an employer. Your employer may or may not make contributions. However, the investment earnings in a traditional 401(k) plan are not taxed until you begin to withdraw funds. With a Roth 401(k), you contribute taxed funds, but your withdrawals are tax-free.
Annuity
An annuity is a financial product that provides a reliable, steady stream of income for a fixed amount of time or a lifetime. You make an initial investment in an annuity, and then the annuity makes payments to you in the future.
Annuities are structured as fixed or variable. Fixed annuities are generally considered a low-risk option, providing regular payments at a guaranteed return. Variable annuities are designed as longer-term investments with exposure to stock market fluctuations and tax-deferred earnings.
Individual retirement account (IRA)
This is a personal, tax-advantaged retirement account available to people who aren't covered by a company retirement plan or who want to supplement their employer-sponsored retirement plan.
The three main types of IRAs each have different advantages:
Traditional IRA—Contributions are often tax-deductible, and any earnings can potentially grow tax-deferred until you withdraw in retirement. Many retirees find themselves in a lower tax bracket than they were in pre-retirement, so the tax-deferral means the money may be taxed at a lower rate.
Roth IRA—Your contributions are not tax-deductible, but your money may potentially grow tax-free, with tax-free withdrawals in retirement, provided that certain conditions are met.
Rollover IRA—You move funds from a qualified retirement plan into this traditional IRA. Rollovers involve moving eligible assets from an employer-sponsored plan, such as a 401(k) or 403(b), into an IRA.
Investment income
Also known as portfolio income, investment income is income that comes from investments or money lent. Interest, dividends and capital gains are three types of investment income. Income investments may include: certificates of deposit, money market accounts, savings accounts, bonds, stocks, mutual funds, real estate and more. Dividends, interest and capital gains are taxable in retirement.
Pension plan
This is a retirement plan where an employer makes contributions to a pool of funds set aside for a worker's future benefit. The pool of funds is invested on the employee's behalf, and the earnings generate retirement income for the worker. Although pension plans used to be common, most jobs no longer provide traditional pension plans.
Social Security
Social Security is part of the retirement plan for almost every American worker. When you work, you pay taxes into Social Security. When you retire, Social Security replaces a percentage of your pre-retirement income based on your lifetime earnings. How much you receive is based on your highest 35 years of earnings. Social Security is an important source of income for many retirees, but it should be just one part of your retirement plan; you will likely need other income to reach your goals.
Talk to a financial representative to learn more!
Understanding these common retirement terms will help you take steps to improve your financial security in retirement, though you still likely have many questions and concerns. Working with a financial representative can help give you confidence knowing that you're choosing the right savings vehicles and making smart investment decisions. A Bankers Life financial representative can be by your side every step of the way helping you be confident in your strategy. Learn more about our services here.
This material provides general information about the described insurance product(s) for educational purposes only. This is not intended as investment advice or to recommend the insurance product(s).
Bankers Life Securities, Inc., Bankers Life Advisory Services, Inc. and their representatives do not provide legal or tax advice. Each individual should seek specific advice from their own tax or legal advisors.
Bankers Life is the marketing brand of affiliated companies of CNO Financial Group including, Bankers Life and Casualty Company, Bankers Conseco Life Insurance Company (BCLIC), Colonial Penn Life Insurance Company, Bankers Life Securities, Inc., and Bankers Life Advisory Services, Inc.  Non-affiliated insurance products are offered through Bankers Life Securities General Agency, Inc. (dba BL General Insurance Agency, Inc., AK, AL, CA, NV, PA).  BCLIC is authorized to sell insurance in New York.
Securities and variable annuity products and services are offered by Bankers Life Securities, Inc. Member FINRA/SIPC, (dba BL Securities, Inc., AL, GA, IA, IL, MI, NV, PA).  Advisory products and services are offered by Bankers Life Advisory Services, Inc. SEC Registered Investment Adviser (dba BL Advisory Services, Inc., AL, GA, IA, MT, NV, PA).  Home Office: 111 East Wacker Drive, Suite 1800, Chicago, IL 60601
Investments are: Not Guaranteed-Involve Risk-May Lose Value.
1Center for a Secure Retirement, COVID-19 Pandemic Uncovers the Importance of Retirement Financial Planning, https://www.centerforasecureretirement.com/Posts/COVID-19-Pandemic-Uncovers-the-Importance-of-Retirement-Financial-Planning, December 16, 2020.
2CNBC, One-third of Americans plan to retire later due to COVID-19, study finds, https://www.cnbc.com/2021/06/14/a-third-of-americans-plan-to-retire-later-due-to-covid-19-study-finds.html, June 14, 2021.