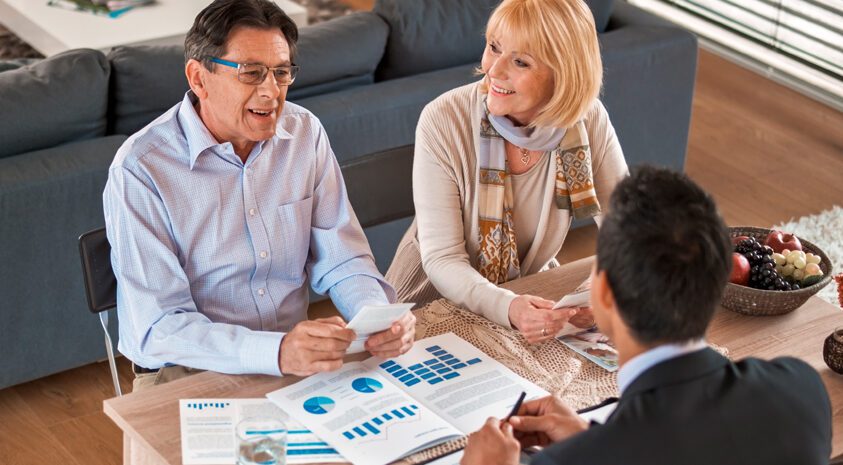 Annual Financial Review Can Help You Reach Your Goals
We all have financial goals. They may be short-term goals like buying a new television or long-term goals such as retiring with financial peace of mind.
Your money matters, but too many of us remain in the dark when it comes to our financial health. Conducting an annual financial review just makes "cents." An annual financial review can help you reach your short-term, mid-range, and long-term goals.
Planning for short-term financial goals
1. Budget for upcoming expenses
No matter if you're making a small purchase, like a new pair of shoes, or a larger one, like a new car, you need a budget.
Planning a budget lets you know what funds you need to make your purchase and budgeting helps you stay on track to meet your savings goal.
2. Review your debt
In order to understand how much you have to spend (or how much you need to save, depending upon your goal), you must first have big-picture knowledge of what you owe. Look at credit card statements, bank loans, student loans, car payments, and mortgages to see what you owe. Review recurring bills like rent or utilities to get an understanding of what obligations you have on a monthly basis.
3. Look at recurring expenses
One way to add immediate cash to your pocket is to look at your recurring expenses. You may be spending money on "extras" like streaming services, gym memberships, or magazine subscriptions that you don't use. Canceling what you don't saves you money.
4. Use loose change and gift cards
Americans often have more loose change and gift cards around their home than they realize. One estimate says Americans have roughly $56 in spare change lying around their home.
Americans are also bad at spending the gift cards they receive for holidays and birthdays. Half of all Americans have unused gift cards with the average adult not using approximately $167 in free money.
https://www.cnbc.com/2020/02/14/americans-have-over-21-billion-in-unused-gift-cards-and-store-credits.html#:~:text=Half%20of%20Americans%20currently%20own,around%20%24167%20in%20free%20money.
5. Consider refinancing
If interest rates are low, it may make financial sense to refinance loans, such as your mortgage. Refinancing gives you a chance to re-examine your monthly payments.
6. Request your free credit report
It's always helpful to know what's in your credit report, especially if you're planning to make a larger purchase for a car or a home in the near future. Each year, the three nationwide credit reporting companies – Equifax, Experian, and TransUnion – are required by federal law to give you a free copy of your credit report. You can get a copy of your report at AnnualCreditReport.com https://www.annualcreditreport.com/index.action
7. Plan your emergency account
Life is full of unexpected moments – you might break your arm tripping on a sidewalk or you might find your car needs a new alternator. It's important to have money on hand to cover life's emergencies, but too few Americans do.
Statistics show only 41% of Americans could cover a $1,000 emergency. https://www.cnbc.com/2020/01/21/41-percent-of-americans-would-be-able-to-cover-1000-dollar-emergency-with-savings.html
Even if you have to start small, it's always better to have a tiny emergency account than no emergency funds at all. An annual financial checkup is a great time to set yourself an emergency savings goal and work toward it.
Planning for mid-range financial goals
8. Plan for educational expenses
If you have children – or if you're planning to return to school – consider a tax-advantaged 529 education savings plan or prepaid tuition program.
Educational expenses fall in the mid-range financial goals category because unlike retirement funds where you can save for decades, most children will enter college at age 18 or 19, leaving many parents with just less than 2 decades to save.
9. Evaluate your insurance coverage
Insurance can help prepare you for the unexpected. Review your policies to see if your coverage meets your needs. Look at your auto, home, life, medical, and any supplemental insurance you may have.
Determine if your coverage is lacking in any area. Part of the reason you're conducting an annual financial review is to make sure your finances are on the right track. Pre-planning helps you avoid missteps that could derail you.
10. Survey other investments
During your annual financial review, take time to look at all of your financial investments including savings accounts, CDs, stock investments, trust funds, savings bonds or rental property.
Reviewing accounts on an annual basis will give you a good year-over-year look at your investments in order to better understand how they're performing. Check for maturity dates on investments like CDs or savings bonds to see if investments need to be re-invested or otherwise utilized.
Planning for long-term financial goals
11. Evaluate your retirement funds.
Every annual financial review should include an evaluation of your retirement savings. Are you on track to save the amount you'd like? Have you fallen behind? It's never too late to start saving for retirement, but the earlier you start, the more time compounding interest has to work in your favor.
Anything you can add to a retirement account will help you in the long run, but for the biggest impact, make sure you're maximizing your contributions. The amount of money you can contribute to a retirement plan varies by year. In 2020, the IRS contribution limit is $19,500 with an additional $6,500 catch-up limit for those over age 50.
12. Protect your family
The average cost of a funeral is between $7,000 and $12,000. If you were to die, would your family be able to cover that? Would they be forced to move because they couldn't afford the mortgage on your home? During your annual financial review, look at your life insurance policies and ensure that the coverage will be able to assist your family after your death.
If you don't have a life insurance policy, your annual review is the perfect time to learn more about whole life or term life policies and how they can fit your needs. Schedule an appointment with a Bankers Life agent, today.
Insurers and their representatives are not permitted by law to offer tax or legal advice. The general and educational information here supports the sales, marketing or service of insurance policies. Based upon individuals' particular circumstances and objectives, they should seek specific advice from their own qualified and duly-licensed independent tax or legal advisors.
This material provides general information about the described insurance product(s) for educational purposes only. This is not intended as investment advice or to recommend the insurance product(s).
The Company and its producers do not provide legal or tax advice. Each individual should seek specific advice from their own tax or legal advisors. The general and educational information presented in this material is a sales and marketing piece for insurance products offered by Bankers Life and Casualty Company.