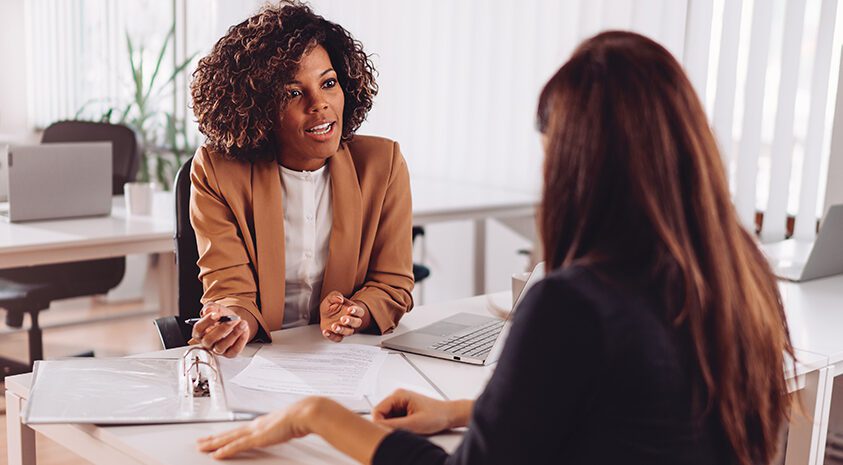 4 ways women can help protect their finances in 2022
Women are more educated and successful than ever, yet when it comes to financial planning, many are still standing on the sidelines.
Men are the key financial decision makers in two-thirds of United States households.1 But that is about to change. Experts say that by the year 2030, American women will control much of the $30 trillion in financial assets that Baby Boomers will possess.1 This great transfer of wealth will happen due to women having a life expectancy that's five years longer than men.2 As male Baby Boomers pass, they will cede control of assets to their female spouses.
Participate in financial planning today to protect your financial security tomorrow
Women should be active participants in financial planning for their households, not passive bystanders.
Women should participate so they're empowered to manage financial decisions alone in the future, if needed.
Financial decisions today could impact a woman's ability to afford costly long-term care in the future. Women are more likely to age alone3 and need professional caregiving services, so they should ensure these needs are being planned for.
How women should protect their finances in 2022
Ladies, now's the time to immerse yourself in financial planning for your household. If your partner handles money matters in your relationship, here are a few ways to challenge yourself to get involved in 2022.
1. Consider opening your own savings or retirement account
Put away as much money as you can for your own future health care and long-term care needs.
2. Attend all meetings with your financial professional
Schedule meetings at times when you and your partner can both attend. Participating in these meetings and building a relationship with your financial professional will give you confidence in making important financial decisions down the road.
3. Be partners when it comes to combined accounts
Be familiar with all of your accounts including where they're located and what they're worth. Ensure your name is included on all accounts and investments to ensure your legal right to the assets. Understand all maintenance and housekeeping tasks your partner performs for accounts so you can take over responsibility if needed.
4. Keep a database of records and passwords
Be sure to record all sources of income and assets, including bank names, account numbers, insurance information and important contact information. Keep an up-to-date list of passwords for all financial accounts.
Talk to a Financial Representative to learn more!
Bankers Life Financial Representatives know that women have unique needs when it comes to financial planning. Your representative can be by your side every step of the way helping you be confident in your future security. Learn more about our services here.
1McKinsey & Company, Women as the next wave of growth in US wealth management, https://www.mckinsey.com/industries/financial-services/our-insights/women-as-the-next-wave-of-growth-in-us-wealth-management, 2020.
2Time, Why Do Women Live Longer Than Men?, https://time.com/5538099/why-do-women-live-longer-than-men/#targetText=The%20numbers%20don't%20lie,tend%20to%20be%20healthy%20ones., January 2019.
3American Association for Long-term Care Insurance, Long-Term Care – Important Information for Women, http://www.aaltci.org/long-term-care-insurance/learning-center/for-women.php, accessed 2021.
This material provides general information about the described insurance product(s) for educational purposes only. This is not intended as investment advice or to recommend the insurance product(s).
Bankers Life Securities, Inc., Bankers Life Advisory Services, Inc. and their representatives do not provide legal or tax advice. Each individual should seek specific advice from their own tax or legal advisors.
Bankers Life is the marketing brand of affiliated companies of CNO Financial Group including, Bankers Life and Casualty Company, Bankers Conseco Life Insurance Company (BCLIC), Colonial Penn Life Insurance Company, Bankers Life Securities, Inc., and Bankers Life Advisory Services, Inc.  Non-affiliated insurance products are offered through Bankers Life Securities General Agency, Inc. (dba BL General Insurance Agency, Inc., AK, AL, CA, NV, PA).  BCLIC is authorized to sell insurance in New York.
Securities and variable annuity products and services are offered by Bankers Life Securities, Inc. Member FINRA/SIPC, (dba BL Securities, Inc., AL, GA, IA, IL, MI, NV, PA).  Advisory products and services are offered by Bankers Life Advisory Services, Inc. SEC Registered Investment Adviser (dba BL Advisory Services, Inc., AL, GA, IA, MT, NV, PA).  Home Office: 111 East Wacker Drive, Suite 1800, Chicago, IL 60601
Investments are: Not Guaranteed-Involve Risk-May Lose Value.