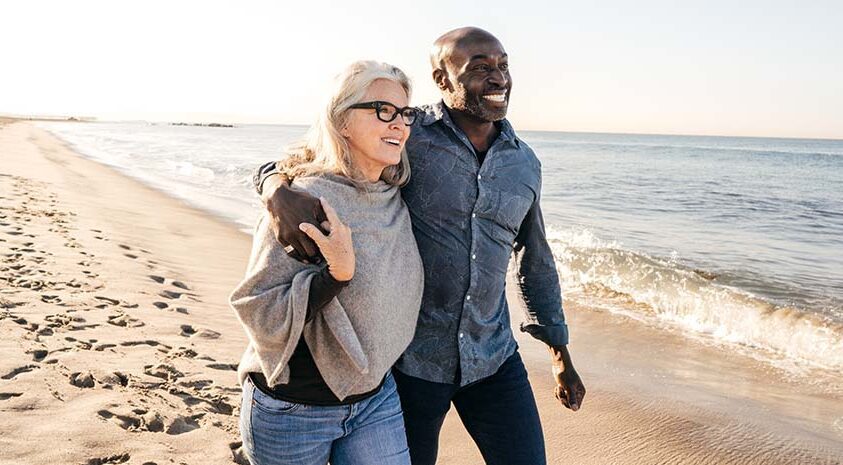 4 Tips for Making Financial Wellness a Reality
After a tumultuous year-and-a-half, some aspects of your life may be feeling a bit more normal these days. Maybe you're once again dining out, visiting with loved ones and taking vacations. You're likely to never take these activities for granted again!
But if there's still a voice in the back of your head voicing concern about COVID-19 and its economic effect, you're not alone: 50% of Americans are worried about a new strain of COVID and its impact on their portfolios. What's more, over a third of Americans say they're too nervous to invest right now, citing volatility, fear of a market crash, and lack of knowledge/information as their top reasons for holding back. Other Americans say they're concerned about rising interest rates and tax policy.1
Don't let anxiety, nerves and worries over your finances prevent you from enjoying the return to normal. Instead, make financial wellness a reality and feel more confident with these four tips:
1. Work with a financial representative
Working with a financial representative can help give you confidence knowing that you'll be able to meet financial obligations, make smart investment decisions and have a personally satisfying retirement despite the pandemic. If market volatility hits, your representative can help you remain clam, stay the course and not engage in knee-jerk reactions.
2. Reconsider your budget
Your spending habits likely changed in 2020 as you were constrained by social distancing from many of your usual activities—or perhaps experienced job reduction or loss. Whatever changes COVID caused to your finances, now is a great time to rethink your budget and how it should evolve as the world returns to normal.
The first step is to identify your income, which could have been impacted by stimulus payments, layoffs and more. The second step is to account for your expenses. Inflation, deferred loans and rising costs of child care could all impact your new budget.
Another budgeting consideration is your retirement savings. If you had to adjust or eliminate your contributions to free up monthly cash flow during the pandemic, this is a vital item to consider in your post-COVID budget.
If you're having a difficult time taking it all into consideration, your financial representative can help.
3. Check in on your emergency savings 
Many people had to draw on their emergency savings during the pandemic. Others were living paycheck to paycheck even before the pandemic, meaning they had little to no savings to cover unexpected emergencies.
Experts say that you should have three to six months' worth of essential living expenses saved in case of emergency. Saving that much money can feel like a daunting task. It won't happen overnight. Set aside small amounts over time until you hit your target. You may need to factor saving into your monthly budget by pulling back in non-essential categories until you meet your goal.
Looking for other ways to boost your emergency savings? Dedicate any windfalls, bonuses or tax refunds to your emergency reserve. Or, consider starting a side-hustle to earn some extra income.
4. Review your insurance needs 
The pandemic has many people seeking new ways to help the financial security of themselves and their loved ones. The right insurance products help you:
Protect your retirement income.
Prepare for health expenses.
Plan for retirement care decisions.
Ease the burden of final expenses.
Working with an insurance professional can help you target your needs and build a plan that helps provide security and peace of mind.
We're here for you no matter what comes your way
Whether the world continues to return to normal—or more setbacks arise—a Bankers Life financial representative can be by your side every step of the way helping you be confident in your financial wellness. Learn more about our services here.
1Insurance News Net, Americans Putting COVID-19 Financial Panic In the Past, Allianz Finds, https://insurancenewsnet.com/innarticle/americans-putting-covid-19-financial-panic-in-the-past-allianz-finds, July 8, 2021.
This material provides general information about the described insurance product(s) for educational purposes only. This is not intended as investment advice or to recommend the insurance product(s).
Bankers Life Securities, Inc., Bankers Life Advisory Services, Inc. and their representatives do not provide legal or tax advice. Each individual should seek specific advice from their own tax or legal advisors.
Bankers Life is the marketing brand of affiliated companies of CNO Financial Group including, Bankers Life and Casualty Company, Bankers Conseco Life Insurance Company (BCLIC), Colonial Penn Life Insurance Company, Bankers Life Securities, Inc., and Bankers Life Advisory Services, Inc.  Non-affiliated insurance products are offered through Bankers Life Securities General Agency, Inc. (dba BL General Insurance Agency, Inc., AK, AL, CA, NV, PA).  BCLIC is authorized to sell insurance in New York.
Securities and variable annuity products and services are offered by Bankers Life Securities, Inc. Member FINRA/SIPC, (dba BL Securities, Inc., AL, GA, IA, IL, MI, NV, PA).  Advisory products and services are offered by Bankers Life Advisory Services, Inc. SEC Registered Investment Adviser (dba BL Advisory Services, Inc., AL, GA, IA, MT, NV, PA).  Home Office: 111 East Wacker Drive, Suite 1800, Chicago, IL 60601
Investments are: Not Guaranteed-Involve Risk-May Lose Value.
*The Top Women Financial Advisors program is a Bankers Life internal incentive awarded to top performing women financial advisors based certain defined criteria.