Would you face a serious medical diagnosis without the expertise of a doctor, or a complex home repair without the knowledge of a skilled tradesperson? How about this: Would you make complicated financial decisions that affect your retirement security without the guidance of a licensed financial professional?
Most people will easily answer the first two questions with "No," but fewer people understand the value of working with a financial professional. In fact, one study revealed that only 35% of Americans have a financial advisor.1
Is it time for you to get the financial help that you need? Check out these four top benefits of working with a financial professional!
1. Expert-guided decision-making
Do some people read up on investment strategies and successfully take the DIY approach? Yes.
However, when you work with a licensed financial professional, you can be confident knowing you're being advised by someone who has their ear to the ground when it comes to investing, plus the education, professional experience, training and licensing to back up their recommendations.
In addition, financial professionals don't have the same emotional investment in your decisions. This benefits you because you know their advice is level-headed and objective.
2. Less financial stress

Between inflation driving up living costs, stock market uncertainty and recession fears, most Americans are feeling some level of financial stress. Working with a financial advisor can help you rest easier and feel grounded knowing that your financial decisions are helping you meet your daily obligations today—while also helping you work toward your goals and prepare for the future.
3. Easier achievement of goals
Why struggle alone with building up emergency savings, investing brokerage accounts, investing your IRA, and juggling your kids' college savings and your retirement savings? A financial professional can help guide you through these challenges—and take some of the work off your plate—so you can achieve your goals with less speedbumps and frustrations along the way.
4. Help for anyone
Don't believe the common misconception that you need to be rich or of a certain age to work with a financial professional.
Even if you're not currently in the best financial shape (perhaps with little savings and a good amount of debt), a professional can help improve your outlook for the better. And for a younger person, working with a financial professional now can help you achieve your goals sooner while not missing out on rewarding opportunities.
Bankers Life Securities is here for you!
So, what are you waiting for? The decisions you make now will impact your financial future, so let a Bankers Life Securities financial professional help guide you through the challenges.
Through our wealth management solutions, our team can assess whether you're on track to reach your goals and then help build a customized strategy to improve upon your financial security. Our variety of investment options can help you, whether your goal is retirement, buying a new home, or saving for your grandchild's education.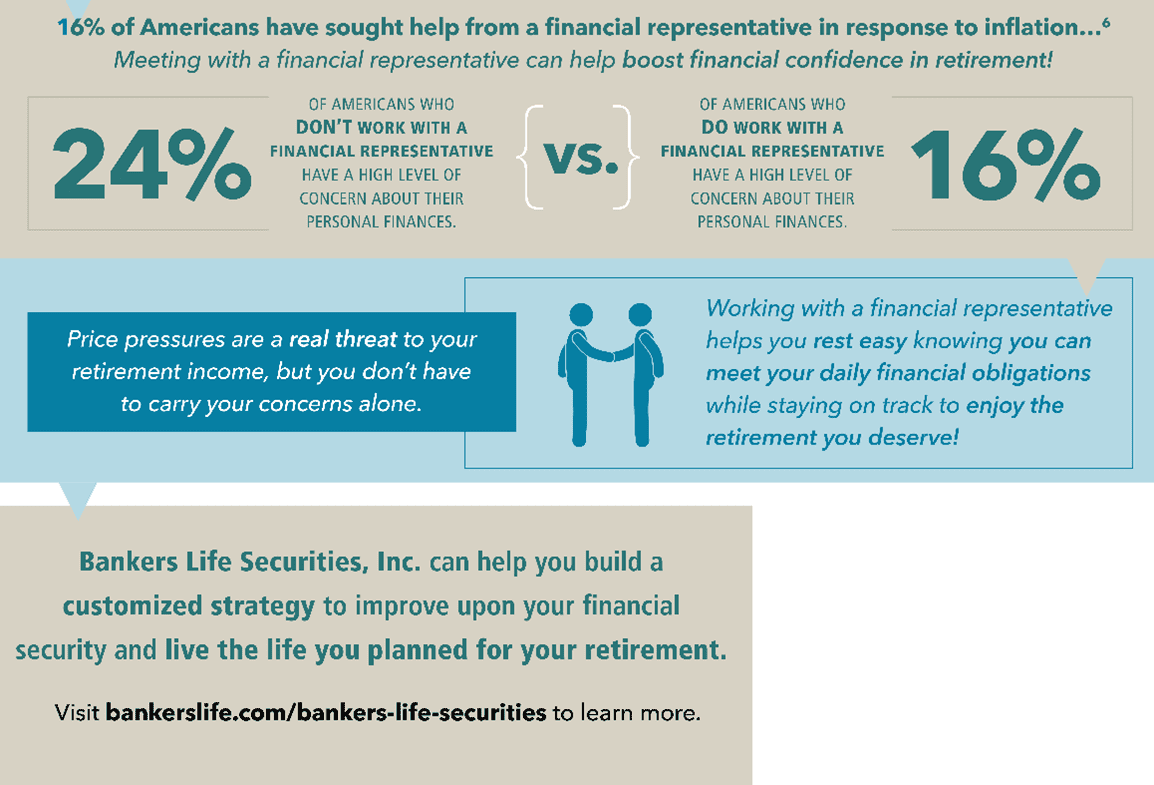 1Motley Fool The Ascent, Only 35% of Americans Work With a Financial Advisor. Here's Why You Should Consider One, https://www.fool.com/the-ascent/buying-stocks/articles/only-35-of-americans-work-with-a-financial-advisor-heres-why-you-should-consider-one/, August 2022.
3CNO Financial Group, Helping Consumers Navigate Economic Uncertainty, 2023, p. 17.
4Ibid., p. 16.
6Ibid., p. 13.