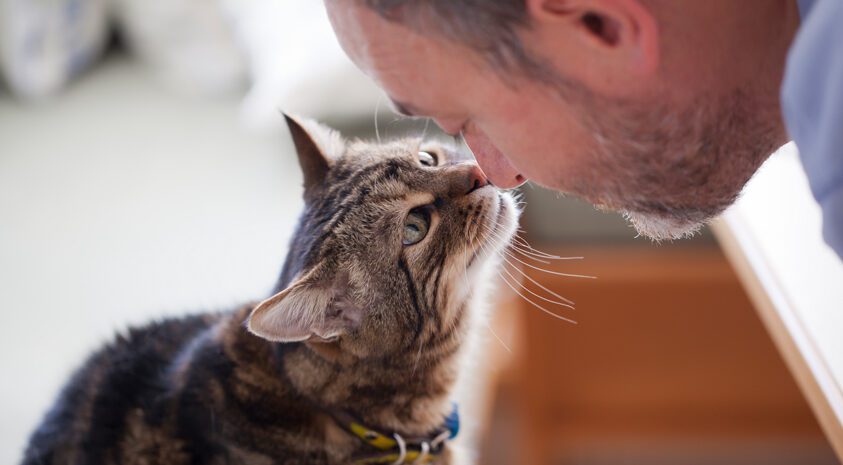 Who Will Care For Your Pet When You Can't?
Owning a pet is one of the greatest joys in life. With 67% of US households taking care of pets in the US, there's obviously a huge group who know how much pets can do for you emotionally. 1
And while historically, pet ownership drops significantly after 70, a growing number of 70-74 years olds are getting pets—increasing from 41% to 45% over the last decade or so.2 But as we get older and wiser, we know how important it is to plan for a situation where we weren't able to take care of ourselves—or our pets. While most people think through what would happen with their children or property, it's important not to forget about your pet!
Do you have a plan in place for taking care of your pet if you weren't able to? Whether you find yourself struggling to buy food or medicine for your cat because of a surprise medical bill, or you physically can't take your dog for a walk anymore, there may be times when you need to call on some help for your furry friend.
Re-homing your pet
Re-homing your pet is a big step, but one that may be right—at least for a short time. First, start with the basics. Is the situation going to be temporary, or more long-term? Might it become permanent? These are all things to think about. For example, if you have a temporary setback like an illness, you may want to reach out to friends or family first and see if anyone has room for your animals. That would be a great way to still see your pet while you heal. Even if the situation may be permanent, maybe a loved one would be able to bring your pet to visit often. Plus, you'll know your animal is has a loving family to take care of it.
Even if you don't have family members who can take on your pet, some organizations have temporary foster programs for situations like these. When finding a new home for your pet, even if it will be permanent, consider calling your local humane society and asking about foster resources. A pet who has been taken care of for years could be the perfect first pet for a new family. This may help you avoid sending your best friend to a shelter.
Finding financial help
It may be that the cost of your care has stretched your budget thin, and you need financial help to keep caring for your pet. Luckily, there are organizations that exist to help pets and their caregivers during times of trouble. All of the following offer some kind of financial help, but some even have temporary emergency sheltering for some pets, or foster programs that can help give your pet a loving home while you focus on your health.
RedRover staff and volunteers provide temporary emergency sheltering, resources, financial assistance and emotional support when animals and people are in crisis.
At Harley's Hope, you can find people who really care about pets. They offer emergency foster care, and can help with vet bills. A touching story from their website says a lot about how they can help: "When Rascal was diagnosed with a perineal hernia, Elizabeth was concerned about getting her pup the surgery he needed. Ordinarily, the retiree could ask her daughter for help, but her daughter is currently unemployed due to the Covid-19 Pandemic. Elizabeth's veterinarian referred her to HHF for assistance and Rascal successfully underwent surgery last week at Planned Pethood Plus."
The mission of the Brown Dog Foundation is "Bridging the gap between the cost of medical care and saving the family pet". If you find yourself in a situation where you can't afford basic care for your pet, they may be able to help. They are primarily an emergency care organization that only works with pets whose lives are at stake, but depending on your situation, they may be a good resource.
Many people rely on Meals On Wheels to provide a meal for them every day. But Meals On Wheels also has programs to help feed pets, too. While they partner with PetSmart Charities to give grants nationwide, they also run Animeals which may be available through your local Meals on Wheels.
Making a plan for your pet—and yourself
We often focus on our plans for ourselves—what we'll do in retirement, how we'll handle a financial hiccup, or what to do if we have a health problem later in life. But our pets are a huge part of our lives—and shouldn't be forgotten either.
If you're making a plan with your financial representative, ask her if you should make plans for your pet as well. It can actually be a huge relief to know you've done everything you can to prepare for every possibility.
1https://www.iii.org/fact-statistic/facts-statistics-pet-statistics#:~:text=Sixty%2Dseven%20percent%20of%20U.S.,year%20the%20survey%20was%20conducted
2 https://www.prnewswire.com/news-releases/baby-boomers-and-millennials-are-redefining-modern-pet-ownership-trends-reports-packaged-facts-300963558.html#:~:text=Between%202008%20and%202018%20the,64%25)
This material provides general information about the described insurance product(s) for educational purposes only. This is not intended as investment advice or to recommend the insurance product(s). The Company and its producers do not provide legal or tax advice. Each individual should seek specific advice from their own tax or legal advisors. The general and educational information presented in this material is a sales and marketing piece for insurance products offered by Bankers Life and Casualty Company.