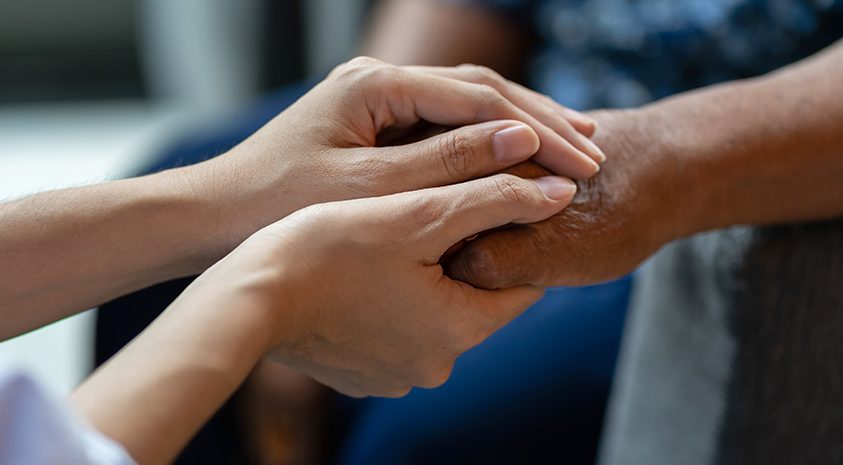 When we get older, we have important decisions to make about how we want to be cared for. And maybe you're already making some of those decisions with your parents, and seeing how some pre-planning can make things easier.
Do you want to stay in your home as you get older? Or would you prefer a retirement community that has assistance when you need it? Do you have a plan in place in case you ever have issues with mobility?
There can be a lot to consider when planning your future… health, comfort, closeness to family, and of course: the cost. Let's take a look at how the cost of different types of care adds up.

Home Care
There are several types of in-home care you may need as your get older. And the cost of each is very different.
Unless there was an accident or fall, most people usually don't need the maximum assistance immediately. A person may only need part-time assistance with some of the basic needs. Maybe they don't drive anymore so they only need someone to stop in every few days and help take them to the grocery store, or just offer some companionship. Some people may be able to use family members for these basics, but some may need (or prefer) to hire someone to do this. Because the services are limited, this may be a relatively low cost.
The costs go up the more care you might need, however. Personal care and nursing services require different levels of care—and training for the caregiver. If a family member can help with this, costs could stay lower. But some people may end up needing full-time care.
24-hour caregiving gets expensive, with nurses or caregivers taking shifts throughout the day so that someone is always there for these needs.
Live-in caregivers are provided a bed, and live in the home full-time. This might involve some discussion with the caregiver around what they will be responsible for, and when they will need to be "on-call" and when they will sleep.
Costs for in-home care services are difficult to estimate because they are so dependent on location, qualifications, and what care you might need provided. But general estimates can be $2,000 to $5,000 per month.
Can Medicare Pay for a Caregiver?
Medicare can cover some caregiving expenses, part-time or intermitted skilled nursing and home health aide services, therapy, medical social services and some medical supplies, but the coverage is limited and depends on your specific situation and what you need. Plus, you must be enrolled in Medicare Part A or B to qualify.
But for full-time or live-in caregivers, or even extended daily assistance, Medicare will not cover you. If you are recovering from an illness or injury, Medicare may only cover some of the costs of home health aides or part-time nursing care to come into the home, however you may still be responsible for some of the costs and there are limitations to what services are covered.
Because Medicare doesn't consider live-in care a benefit, Supplemental Insurance policies also don't cover these kinds of services.
What About Long-Term Care Facilities?
Medicare also won't cover nursing homes if they are "custodial care". This means if you just need assistance with the daily life tasks.
Medicare will cover a stay at a skilled nursing facility if it is medically necessary for you to be there. But if you are interested in a retirement home, intergenerational day care, or another type of assisted living facility, you'll have to pay for them without Medicare assistance.
This is another area where the type of care you're receiving may affect the costs. Day programs that provide care while family members are working, for example, cost much less than a fulltime nursing home facility with on-staff nurses.
Where nursing homes can cost $100,000 annually—and more for private rooms—an assisted living facility where you live independently could cost half that.
Depending on your level of care, you may consider a blend of day programs and in-home caregivers to provide care coverage in a more affordable way.
Consider Other Ways to Pay For Long-Term Care
Long term care insurance helps cover things like nursing homes, home health aides, and more. The kinds of things we will need when we get old enough and may not be able to live independently anymore.
You can read more about it here.
There's also something called a Guaranteed Life Income Annuity, or GLIA. With a GLIA, you'll receive a yearly income—you could think of it like an annual salary. The value of the account starts when you put a lump sum into the annuity. The value then grows tax-deferred until you decide to start withdrawing (after a one-year waiting period). The longer you wait to start withdrawing, the higher the amount you withdraw becomes. That's because your income is based on the value of your account multiplied by a percentage determined by your age and how long you've had the account.
A GLIA is a way to know you'll have an annual income to pay for expenses like your long-term care, nursing home expenses, and more. The funds are yours to use how you see fit. So no matter how you decide is the best direction for your long-term care, you can create a way to cover those expenses yourself.
If you're trying to decide ways to pay for your long-term care, you should reach out to an agent today. They'll help you figure out what's right for your situation, and can help you find ways to pay for the care you'll need as you get older.
This material provides general information about the described insurance product(s) for educational purposes only. This is not intended as investment advice or to recommend the insurance product(s).
The Company and its producers do not provide legal or tax advice. Each individual should seek specific advice from their own tax or legal advisors. The general and educational information presented in this material is a sales and marketing piece for insurance products offered by Bankers Life and Casualty Company.