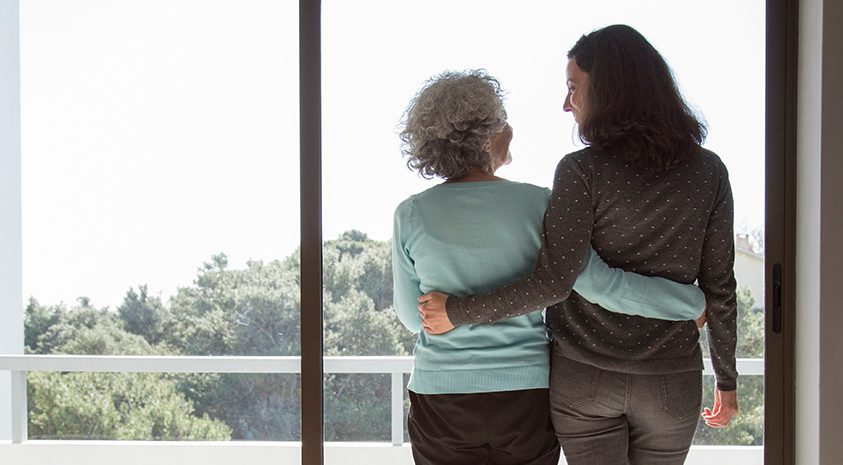 Strategies for People Caring for Parents: Finding Time for Yourself
There's been a lot of talk lately about the most recent Sandwich Generation. This is the generation of caregivers—the people taking care of their aging parents, on top of caring for their own children.
But even if you aren't quite in the Sandwich Generation (maybe your kids are already grown, or you chose not to have any), you may still find yourself in a caregiving role with your parents. It's a big responsibility, and it can feel overwhelming.
We start by breaking down just what makes caretaking so stressful at times, and then share a few tips to maintain your sanity and explore ways to care for your aging parents that are less draining on you—without sacrificing their care.
Why is the role of Caregiver so stressful?
Aging is Complicated
There is so much uncertainty around the aging process. And while there are illnesses that are diagnosed and then improve with time, ultimately there is no reversing aging. Often, there is a loss of independence felt by the person being cared for. And as they get older, this loss feels greater. It can be a period of grief for many, and something as small as a fall or mild illness can create incredible challenges for caregivers (that's why taking steps early to make a safer home can be so important).
Often there is frustration by the person being cared for. And that can be exacerbated when immediate family is involved, because of their desire to continue being a support, rather than feeling like a burden.
Family Decisions Mean Family Issues
Not only can that feeling of being a burden strain a relationship between a caregiver and the person they are taking care of… it can also create issues among caregivers sharing responsibilities. Siblings may start to argue more over care responsibilities. Maybe distance creates even more issues—a child nearby may be expected to be the caretaker, while the children who live in another state only help when visiting.
And while responsibility for care is one prickly issue, often others arise. For example, making important decisions about care can be a particularly emotional moment for many. And when two caregivers disagree, tensions flare.
Family Caregivers Aren't Prepared
When a child decides to take care of a parent, it often comes in a moment when things aren't as difficult, and it seems like the right thing to do. In fact, most adults report they feel it's their responsibility to take care of their parents as they get older, with over 1 in 4 already doing so. But as care needs rise, adult children start giving up a lot of their free time activities.
Not only are caretakers not taking personal time, but they are also ill-prepared for the basic caretaking needs. As their parents need bathing, help with the bathroom, increasing supervision, and more, many children get caught in years of codependency—all because they haven't been trained in ways to help their parents maintain independence.
This pain-point is often the moment where hopelessness creeps in.
What steps should you take to prepare yourself?
Understand What Your Parents Are Feeling
Moving from the role of provider to a role where you are being taken care of is a huge life shift—for anyone. Talk to your parents about how this feels. It may help them just to know you understand what they are feeling.
Ask For Help If Needed
It's okay to not be everything. In fact, chasing that goal may put more stress on the care you can give your loved ones. If you didn't go to school to become a nurse, no one could blame you for struggling with some of the intimate care needs of an aging parent. If you feel stretched thin or ill-prepared, it's best to call for a professional to help—even if only for several hours out of a day.
Plan Ahead
If your parents are just entering the life stage where you are stepping in to care more for them, think about the long-term implications. Do they have the savings to carry them through with nursing assistance, or will you be the primary caregiver day-to-day?
As you plan ahead to care for yourself, or in helping your parents plan ahead, besides long-term care insurance, there are different types of life and annuity insurance products that can actually help with the expenses of long-term care. The Guaranteed Lifetime Income Annuity Plus (GLIA Plus) is a type of insurance called an annuity. A GLIA is a way to guarantee an income stream for life. Think of it like getting a set paycheck for as long as you live.
With the GLIA Plus, tax-deferred savings can grow, while providing an income stream to help pay for medical expenses that come up as the policy-holder ages. In fact, with this annuity you can temporarily increase the Lifetime Income Withdrawals in the event you have qualified health crisis. Whether planning ahead for your own needs, or helping your parents plan ahead for theirs, it's another way to help give peace of mind.
How can you make sure your care is the best?
The earlier you start planning for your own care needs, the better. Whether you are concerned with maintaining your independence, or worried about who in the family could care for you, you can start planning now for when the time comes.
Life insurance and retirement planning are important. And other products like the GLIA Plus can be great ways to make sure your health needs are covered through your entire life.
Learn more about the GLIA Plus—and other ways to plan for your future care needs—by talking to a Bankers Life agent today.
This material provides general information about the described insurance product(s) for educational purposes only. This is not intended as investment advice or to recommend the insurance product(s).
The Company and its producers do not provide legal or tax advice. Each individual should seek specific advice from their own tax or legal advisors. The general and educational information presented in this material is a sales and marketing piece for insurance products offered by Bankers Life and Casualty Company.
GLIA Plus is available in 49 states, excluding New York, through Bankers Life exclusive insurance agents. Payout may be subject to withdrawal charges, which can vary by state. The GLIA Plus is not long-term care insurance, and it doesn't replace traditional long-term care Insurance coverage. To learn more about this and other income longevity products offered by Bankers Life, visit BankersLife.com.