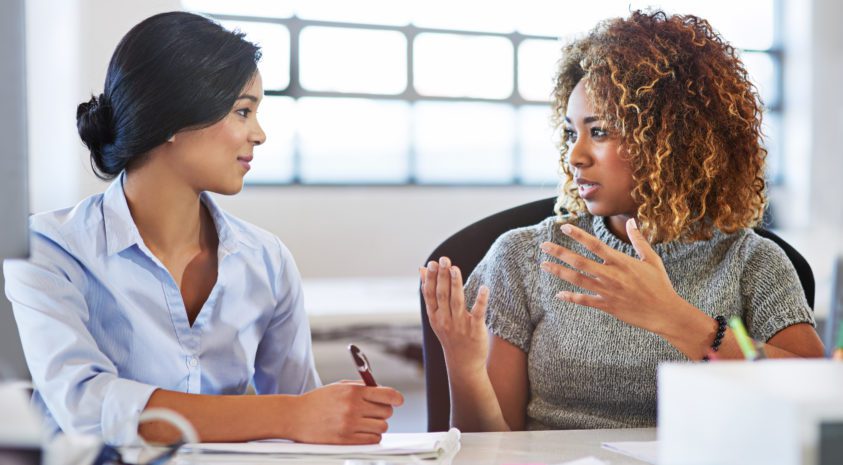 For most people, losing a loved one is a distressing event. The grieving process can put your emotions in continual fluctuation, from one extreme to another. You may experience disbelief, shock and anger all in the same day. You may feel overwhelmed and not sure how to think or react. Some days may bring feelings of anxiety, restlessness and anger.
While coping with your loss, you may also be responsible for planning your loved one's funeral. The funeral is a significant part of the grieving process. Recognizing the deceased is important because it:
Reinforces the reality of your loved one's life and death.

Allows family and friends to acknowledge and express their loss.

Provides opportunities for family to interact with the community in their new roles.

Offers an environment for others to reevaluate their views on life and death.

Enables group support by creating a common experience.
It may be difficult—or even feel impossible—to plan a funeral while grieving. To help in your time of need, we put together a couple resources to help ensure you're completing all the necessary tasks as you plan your loved one's funeral.
This chart shares who to notify upon the death of a loved one and things you'll need to select and provide as you plan the funeral: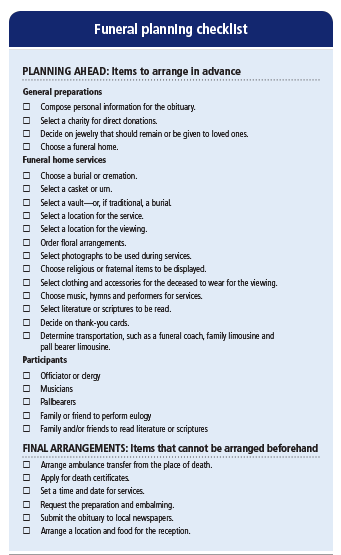 This chart goes into the finer details of planning a funeral. Feel free to print it out, mark it up and reference it frequently.
As you plan your loved one's funeral, be sure to rely on your funeral director, who will help with many of the arrangements. This individual will help make plans to transport the body, obtain the death certificate and plan the memorial service. Your funeral director also can help you notify the deceased's employer, bank, insurance companies and government agencies. He or she is also a helpful reference in applying for benefits, preparing a public obituary and coping with your loss.
If your loved one planned the funeral arrangements, he or she may have selected a preferred funeral director. If not, you may want to ask friends and family for recommendations. Consider meeting with several funeral directors to find someone who is capable of fulfilling the deceased's last wishes.
Funerals often provide an opportunity to reflect on our own lives, relationships and the roles we play. If you passed away today, would there be enough cash on hand to pay for a funeral and other expenses? With life insurance, you can help keep your family in the home you love, send your children to college and pay bills, even if you're not there to provide for them financially.
Learn more about life insurance and talk to an agent today.
Everything you need for the life of your retirement