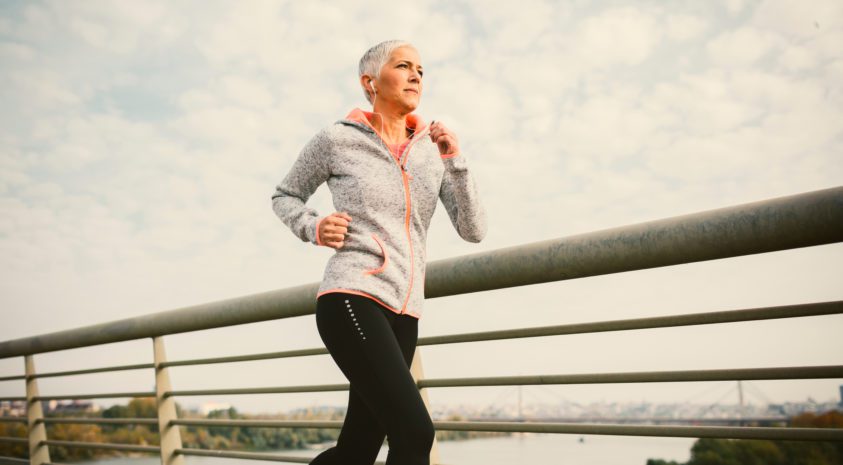 Running and Senior Health
Make a run for it.
Your brain will thank you.
You wouldn't be a bit surprised to hear that running is good for your physical well-being. But did you know it can boost your brain power, too?
A recent study conducted at the University of Arizona and published in Frontiers and Human Neuroscience compared the brain activity of competitive distance runners against healthy-but-sedentary adults. The results are telling.
The runners showed stronger connections in the parts of the brain responsible for higher-level processes, such as concentration, decision making, memory and multitasking. The study also points to past research linking regular, intense exercise with certain "protective effects" on the brain as it ages. Specifically, research shows the impact of exercise at different life stages:
In youth, exercise can protect the brain from some effects of aging.
In early adulthood and midlife, exercise can support cognition, memory and executive functions.
In midlife, exercise can reduce the risk of neurodegenerative diseases like Alzheimer's and Parkinson's.
Pound that pavement
Unlike so many hobbies and habits, running can be easy and inexpensive to begin. Try these four tips to activate your body and your brain.
There's an app for that.

If you have a smartphone user, find a free, inexpensive or benefit-packed app to help you get motivated and moving. The popular MapMyRun lets you track your pace and distance for each outing, and you can sync your data with a Fitbit or other fitness device.

Treat your feet.

Protect your feet, knees, hips and back with supportive well-made shoes. Shop at a running store that will fit you for shoes and take them back if you develop blisters or other discomfort.

Find a friend.

If you lack discipline, grab a friend or two to step out with you. You can get together in person or connect virtually with a fitness tracker like Fitbit. You might even find that the competitive element gets you moving like never before.

Go the extra mile.

Right now, you might now imagine yourself jogging to the mailbox, much less finishing a marathon. Remember that every runner begins somewhere. Set a goal for yourself for registering for a local 5K. As you build endurance, set your sights on a half- or even full marathon. (Join CNO Financial's popular Monumental Marathon day of events here!)

Talk to the doc.

Before you start any new exercise program, talk to your primary care physician. Get an evaluation of your current health, blood pressure and other vital signs to rule out red flags.
Monumental moments
CNO Financial Group, Inc., the parent company of Bankers Life and Casualty Company, was named one of Indiana's Healthiest Employers in 2015. In 2016 our company became the title sponsor of the annual Indianapolis Monumental Marathon. For 2017, we're inviting recreational and serious runners to explore the Circle City with us!
Indianapolis Monumental Mile — June 1, 2017

Noncompetitive community mile
CNO Financial Indianapolis Monumental Marathon — Nov. 4, 2017

Half Marathon, 5K and Kids Fun Run
Everything you need for the life of your retirement
Source: "Differences in Resting State Functional Connectivity between Young Adult Endurance Athletes and Healthy Controls," Frontiers in Human Neuroscience, November 29, 2016.
Running as the Thinking Person's Sport. (2016). Retrieved from https://www.nytimes.com/2016/12/14/well/move/running-as-the-thinking-persons-sport.html?rref=collection%2Fsectioncollection%2Fhealth&_r=1