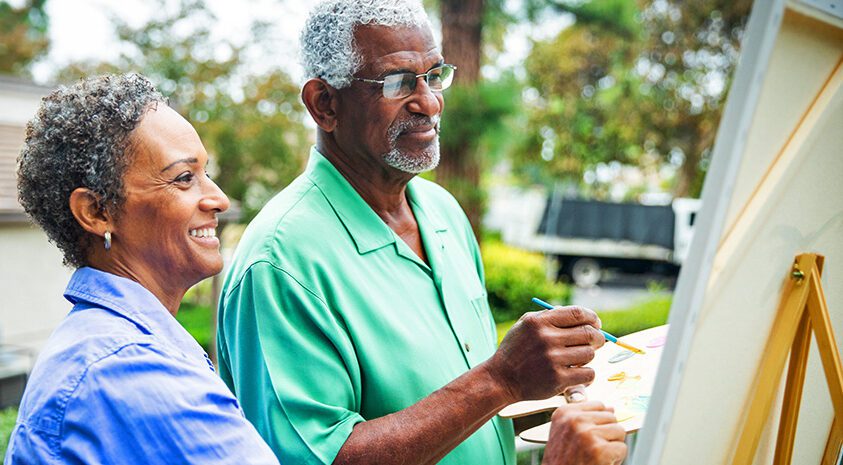 Mental Health Tips to Keep Your Mind Sharp in Retirement
It's a normal part of aging to experience memory loss, sensory changes, and even trouble with problem-solving. But those can also be signs of Alzheimer's or dementia. It's important to see a doctor if you're worried about any new cognitive impairments.
There are some ways to help keep your mind sharp, though! In fact, research from Northwestern University shows physical activity and mental stimulation help keep the brain engaged. Check out the tips below to see ways to keep your mind sharp as you get older.
1. Getting Enough Sleep
No matter what age you are, you'll know the feeling of getting too little sleep and struggling through the next day! The American Psychological Society has research to show sleep disruptions have a negative effect on memory.
Plus, research from the Sleep Foundation estimates 40-70% of older adults have chronic sleep issues. People with multiple health conditions were more likely to have problems sleeping. And the medications we take as we get older can sometimes affect our sleep cycles.
But there are ways to help your nightly sleep! First, try to limit daily naps if possible. Setting a bedtime routine can also help you stick to a schedule.
It's important to avoid caffeine late in the day. It's also good to avoid TV and screen time closer to bed.
2. Playing with Grandkids
Grandchildren are one of life's greatest joys. They're young and vibrant—and that may just keep you young and vibrant, too!
In fact, because young minds are still growing and learning, the act of teaching them new things keeps your mind active. Verbal fluency has seen improvement in grandparents who see their grandchildren weekly.
Not only that, spending more bonding moments with grandchildren has been linked to lower risk of depression among grandparents.
3. Doing Word Puzzles
Word puzzles (and number puzzles) are all great from memory. Newspapers usually have daily puzzles like Crosswords, Sudoku, Unscrambler, and more.
And you can find books with these kinds of puzzles on every page. Crosswords exercise word recall, spelling, and even grammar and reasoning. And Sudoku is a great math game that is as simple as it hard!
These are fun to do because of the sense of accomplishment. But they are also great solo brain exercises.
4. Doing Jigsaw Puzzles
Puzzles are great for memory. And they're an activity you can do by yourself and still find tons of enjoyment in. It's like an artwork you can create relatively quickly. Plus, it exercises the parts of your brain that handle spatial relations, colors, and patterns—all at the same time!
If you are a puzzle-master, then you already know the benefits puzzling can have. But if you are new, think about starting with a smaller puzzle. You can always get puzzles with more pieces as your skill level—and confidence—grows.
Of course there are other types of puzzles and games you can do too, like Memory, Rubik's Cubes, and more. Explore the puzzle section of your favorite local bookstore to get some ideas.
5. Staying Involved in a Creative Hobby
Do you have a hobby like pottery, woodworking, writing, performing, or painting?
Retirement is a great time to explore new hobbies, and find a creative outlet. And studies have shown that poetry and other creative hobbies actually improve brain function.
There are lots of local groups that cater to hobbies—and a ton of them are made up of your peers. After all, retirement draws a lot of people into interesting hobbies. Explore your local arts center and see if they offer any classes. Or, if you already have a creative hobby, consider teaching one yourself!
6. Exercising
You may have noticed this article is about mental exercises. So what's this section about exercise doing in here? Well, your physical health actually has a direct impact on your memory and mental health!
Exercise has consistently been shown to improve mood, reduce stress, ease anxiety, and help with sleep. And all of those things impact your concentration and memory! And as we've seen, a consistently scheduled activity helps us keep our inner-clock calibrated.
It may seem tough to start at first, but once you're in a routine, it will be a breeze! Creating that habit is the hardest part, but if you remember that a little exercise benefits you in more ways than one, it's like getting double the benefit. Now that's a good deal!
7. Taking Things One at a Time
Whether you're still working or fully-retired, multitasking can be a real headache. And it can actually hurt your brain (more than just the headache).
When studied in lab conditions, people who were asked to do two tasks at the same time consistently made more mistakes and forgot important details.
In fact, multitasking has been shown to reduce your cognitive ability the same amount as running on little to no sleep.
All that is to say, when you're focused on one task, try to finish it before jumping to the next! The benefits to your brain health may be as high as getting a good night's rest each evening.
What to do if you're worried about your brain health.
Alzheimer's is a disease that we're always learning more about. And while these tips above may be great for brain health, Alzheimer's is a disease. As with all diseases, it can seem random, and affect people differently.
One in nine people over 65 have Alzheimer's today, and it affects family members. caregivers, and more.
But you can prepare yourself. First, see your primary care doctor and let them know your concerns. They can talk to you about your symptoms, and help determine if it's a normal sign of aging, or a more serious diagnosis.
While no one likes to think about getting a serious illness, no one wants to be caught unprepared. Securing financial security for your family in case you couldn't care for them is as easy as talking to a Bankers Life agent and exploring your options.
This material provides general information about the described insurance product(s) for educational purposes only. This is not intended as investment advice or to recommend the insurance product(s).
The Company and its producers do not provide legal or tax advice. Each individual should seek specific advice from their own tax or legal advisors. The general and educational information presented in this material is a sales and marketing piece for insurance products offered by Bankers Life and Casualty Company.