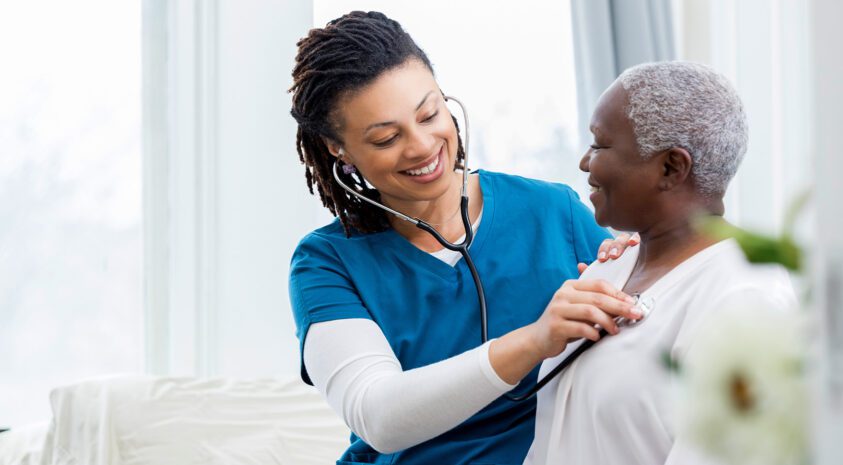 Everything you need to know about preventive care
The new year often brings a renewed focus on health, and for many people, that means eating better and exercising more. One additional health goal you should add to your list is prioritizing preventive care!
What is preventive care?
Preventive care—or routine care—includes annual check-ups, immunizations, and certain tests and screenings. Most health plans must cover a set of preventive services at no cost to you as long as services are delivered by a doctor or other provider in your plan's network.1
If you've had Medicare Part B for longer than 12 months, you can get an annual wellness visit to develop or update your personalized plan to help prevent disease or disability. This visit may include a review of your medical and family history; a review of your providers and prescriptions; height, weight, blood pressure and other routine measurements; a screening schedule for appropriate preventive services; and more. This visit is free for you as long as your doctor accepts the assignment.2 Check out this resource for more information on the preventive and screening services covered by Medicare Part B.
Why is preventive care important?
Keeping up with preventive care can help you detect or prevent serious medical problems before they become major. Annually visiting your medical team can help providers guide you to make choices that promote better health and catch health problems early, when they're easier and less costly to treat.
When should I schedule appointments?
If you're not already in the habit of sticking to a schedule for routine medical care, here are some ideas that may help you make it a priority and remember to follow up each year:
Schedule your routine medical appointments during your birthday month or during your half birthday month.
Schedule your appointments around Valentine's Day—because preventive care is a form of self-love!
Schedule your appointments in the spring. Spring is a season of renewal and a fresh start, perfect for taking care of your health.
What are some examples of preventive care?
Annual check-up: This is a routine visit with a primary care provider where all areas of health are reviewed. Your doctor will take your height, weight and vital signs, including blood pressure, heart rate and temperature. Your doctor may also assess: your heartbeat and breathing sounds, your head and neck, your abdomen and your muscles. Your doctor may also order lab tests, such as a complete blood count, blood chemistry panel and urinalysis.
Vaccinations: During your annual check-up, your doctor can help you determine if you're due for vaccinations like measles, mumps, rubella, polio, etc. Flu shots are typically received annually in the fall and can help protect you from certain strains of the flu. Check out this adult immunization schedule from the CDC for more information.
Cancer screenings: Depending on gender and age, it may be time for you to receive certain cancer screenings, such as a mammogram, cervical cancer screening, colorectal cancer screening, lung cancer screening, or prostate cancer screening. Check out these guidelines from the American Cancer Society to learn about cancer screenings.
We're here for you!
Our agents can help you understand Medicare and your coverage choices. Get in touch with one of our knowledgeable agents for the help you need!
1Healthcare.gov, Preventive health services, https://www.healthcare.gov/coverage/preventive-care-benefits/, https://www.healthcare.gov/coverage/preventive-care-benefits/, accessed 2023.
2Medicare.gov, Yearly "Wellness" visits, https://www.medicare.gov/coverage/yearly-wellness-visits, accessed 2023.